5 Career Lessons for Women – from the online blogging world OR Linkfluencer Conference Highlights November 2015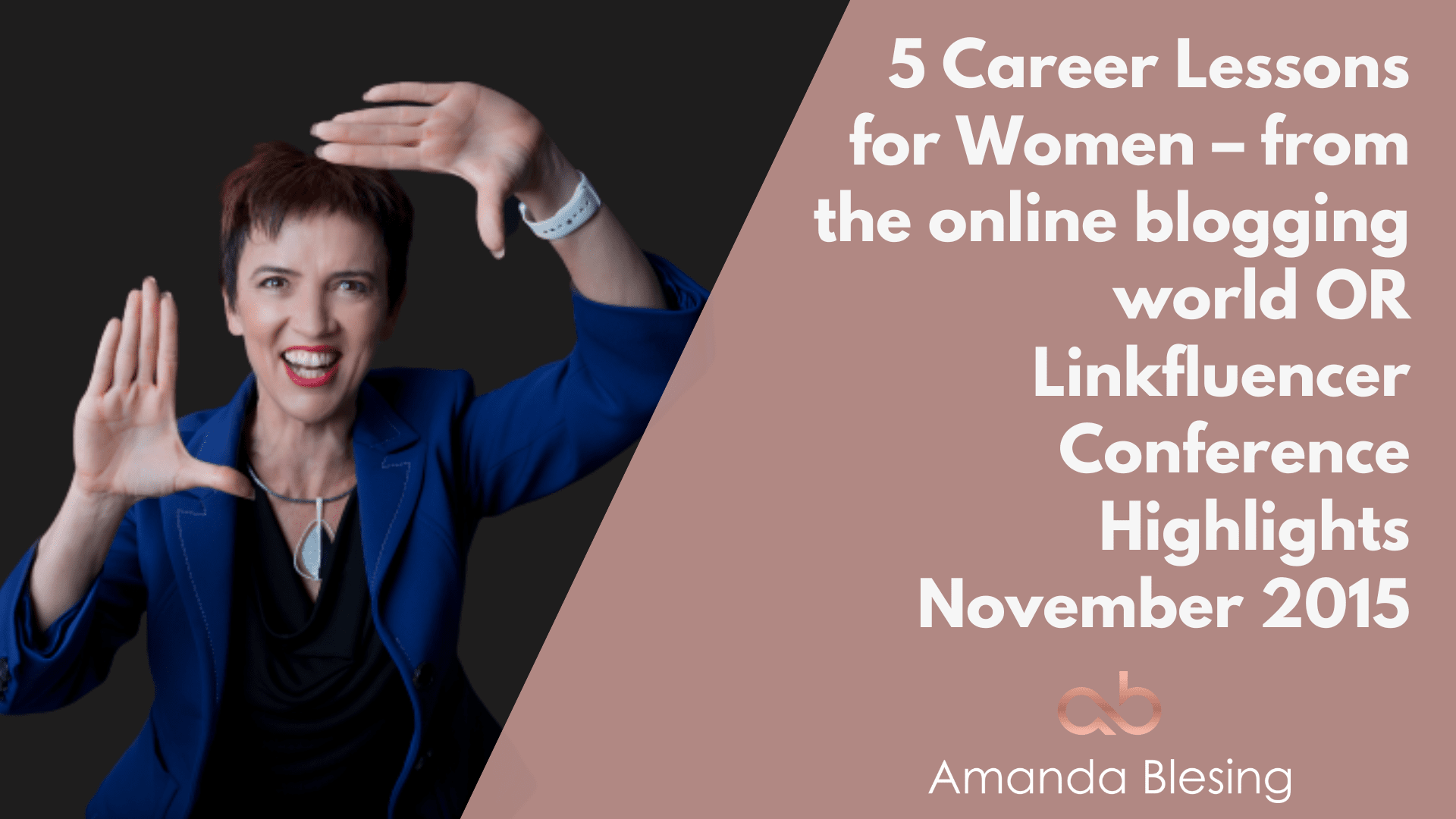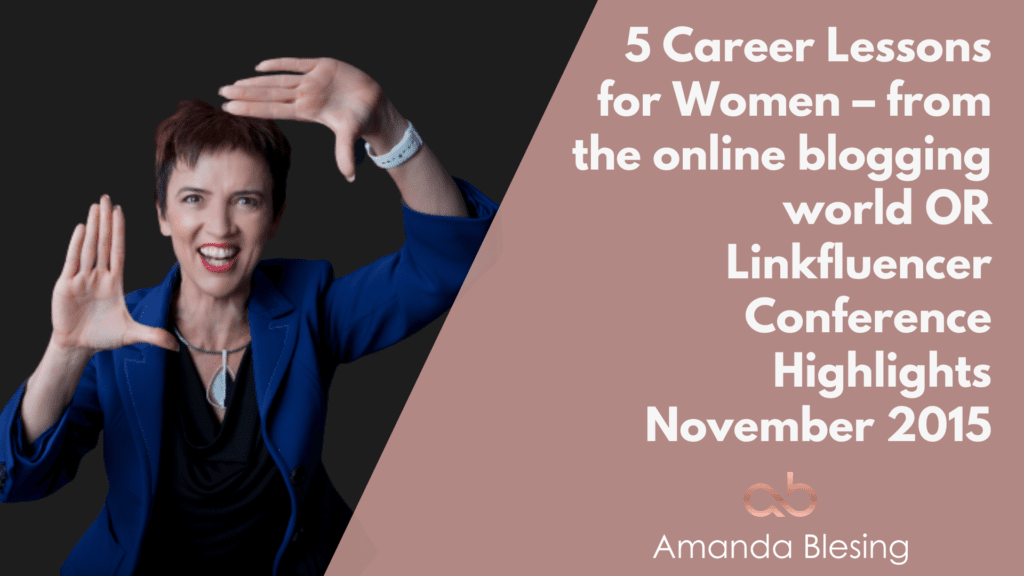 Linkfluencer Annual Conference Highlights
In November, I attended the Linkfluencer Annual Conference hosted by Linkfluencer and run by Alex Pirouz.  While some conferences are theoretical and programmed to explore the problem – this one wasn't.  In fact, right from the get go we got onto practical, take home strategies that will help anyone to tap into and harness the power of LinkedIn better – particularly entrepreneurial and info-preneurial ventures.
As some of you are aware – I've run or attended more conferences than most people have had hot dinners.  So I'm pretty picky when it comes to the program.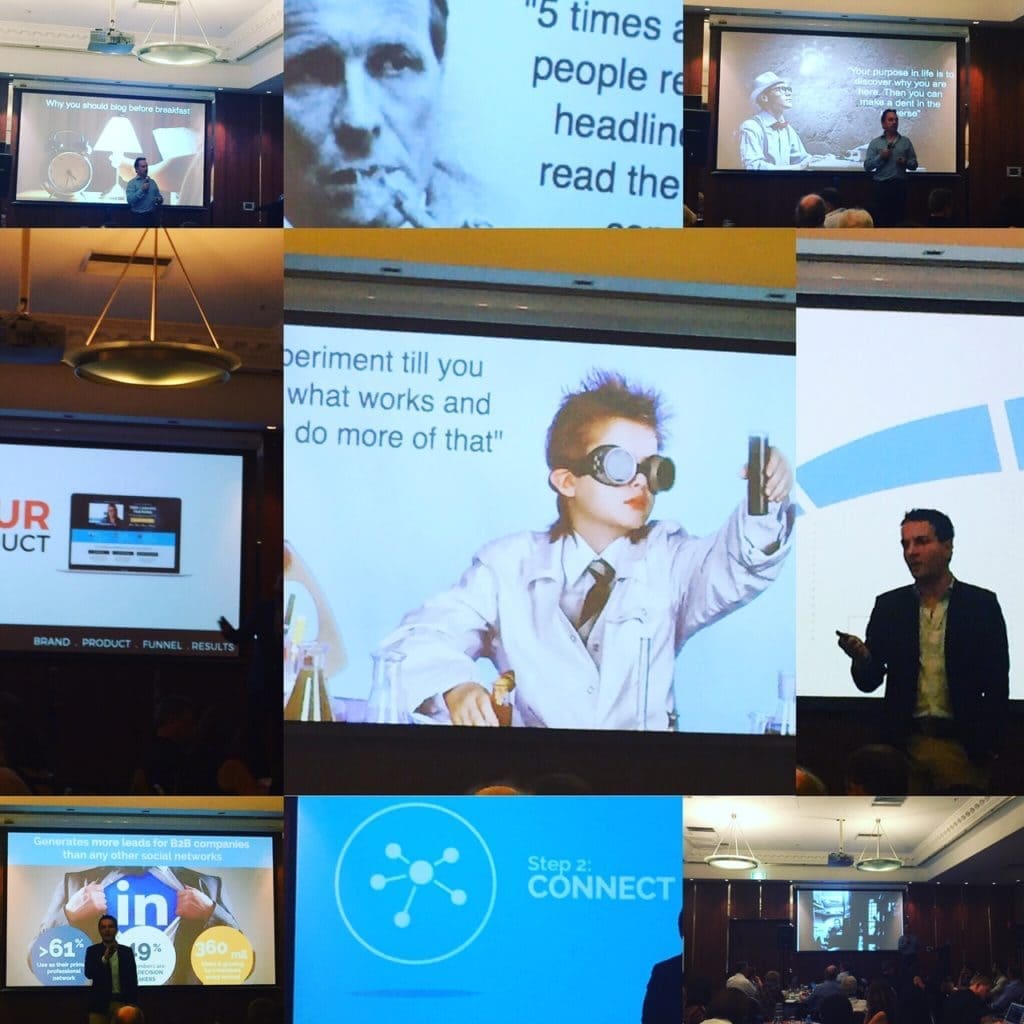 Thanks to the organisers for pulling together an awesome technical expert presentation team including Jeff Bullas, Robert Coorey and Andrew Wickham.
My one disappointment? No women on stage. I'm pretty sure that women are doing great things on LinkedIn and other social media platforms. Would have been nice to see that reflected on the stage too. While I don't want to rain on their parade (because it truly was a value packed event and the lessons absolutely invaluable), given that women are AWESOME at connection, socialising, communicating etc there would appear to be a natural fit with the power of social. Surely there is some woman somewhere in the social media world here in Australia who is doing great things? Conference organisers need a check list when programming so they don't fall into that trap by accident. (Note: since first publishing this on my blog organisers have already acknowledged that they are looking at this in preparation for next year.)
So what did I learn that might be relevant to those who work in professional roles? Heaps!! Let's extrapolate.
1. Blog before breakfast.
So you don't blog? Don't worry. Same same, but different. This is not a new idea, but it is a great reminder – even if you don't blog. The early bird catches the worm. Many highly successful and powerful people wake early and get started on their work. And according to Top 10 Career Lessons From Powerful Women on Forbes Magazine:
""Starbucks' President Michelle Gass wakes up at 4:30 every morning to go running. (Former) Avon chairman Andrea Jung wakes up at 5. LongtimeVogue editor Anna Wintour is on the tennis court by 6 every morning before work. These women have realized that success comes easier when you have a jump on the day.""
So what are you waiting for? Set your alarm. Establish a routine. Beat the commute and get something substantive done and out of the way BEFORE breakfast. You might just surprise yourself at how energetic you actually feel.
2. Systematise, automate and outsource/delegate.
We know that systems and processes help mitigate anxiety and increase productivity. However sometimes human nature gets in the way and we get stuck in the rut of wanting to do it all ourselves. To keep highly productive it's time to regroup and ditch that thinking.
What can you eliminate that might be cluttering your thinking?
Or perhaps you feel negatively about so its an energy drain slowing you down?
Or what else is simplynot getting done because you don't really know how to tackle it?
Once again in that great article from Forbes on career advice for women and delegation:
""If you think of your career as a juggling act of various balls, ask yourself which of those balls are made of glass and would shatter if dropped, and which are made of rubber and would bounce back. Give away the rubber balls.""
3. Drop old school thinking about connecting on social media.
If someone you don't remember invites you to connect, do your due diligence (vet their profile) but keep an open mind. Stay curious and consider how you both might be able to help each other – it's a new hyper connected world where joined up thinking, connection and collaboration are the way of the 21st Century. In the old world we were more likely to operate in silos and structures. Now openness and curiosity are queens. As we lookfor new ways to solve old problems we just might need to think outside the square.
""Today, the lightning pace of change means you have to be ever-curious, always ready to learn and adapt to the new environment around you. Anne Sweeney, the co-chair of Disney Media Networks and president of Disney-ABC Television Group, describes herself as "driven by curiosity" because "it gets people excited" and "leads to new ideas, new jobs, new industries." She says, "The smartest thing you can ever do is to constantly ask questions." Forbes"
4. Done is better than perfect.
Not a new idea by any means but obviously we all need constant reminding. Don't let perfect be the enemy of the good! Jeff Bullas showed us his first tweet. OOPS!! Not perfect! He showed us his first blog. Another big OOPS – and another "not perfect". However these first steps were the beginning of him building an amazing social enterprise.
So what are you procrastinating on right now because it's not perfectly polished? What projects, what new ideas, what initiatives are on the go slow because you are feeling like it needs more work? Take a good look and then hit the "play" button. You might be pleasantly surprised at the results.
5. The sooner you put scalable tools into place, the sooner you will grow.
So how does this translate in the professional world? Mentors, champions, coaches, sponsors, cleaners, VA's, outsourcing, systems and processes that free your thinking power up and allow you to keep growing – and thinking bigger. It's safe not to scale – but it won't get you very far very fast and in fact will eventually slow you don't. Change gears and accelerate instead.
""Get comfortable with discomfort! And from there you will be far more effective""
So my question to you is – what can you do right now that will move you forwards? What can you implement immediately that will help you execute your next bold audacious move? Or what is the one thing you've been thinking about for weeks, but haven't yet done, that will land you the role of your dreams one day?
And instead of thinking about it? Just do it.
Vive la révolution!
#ambitionrevolution
PS – sharing most welcome. Let's spread the word and inspire a woman somewhere. Hit the little share icon at the base of the article.
In a world where women account for less than a third of key management positions, female leaders need to take control of own careers and success more than ever.