The Power of a Possibility Mindset (or are you creating your own roadblocks?)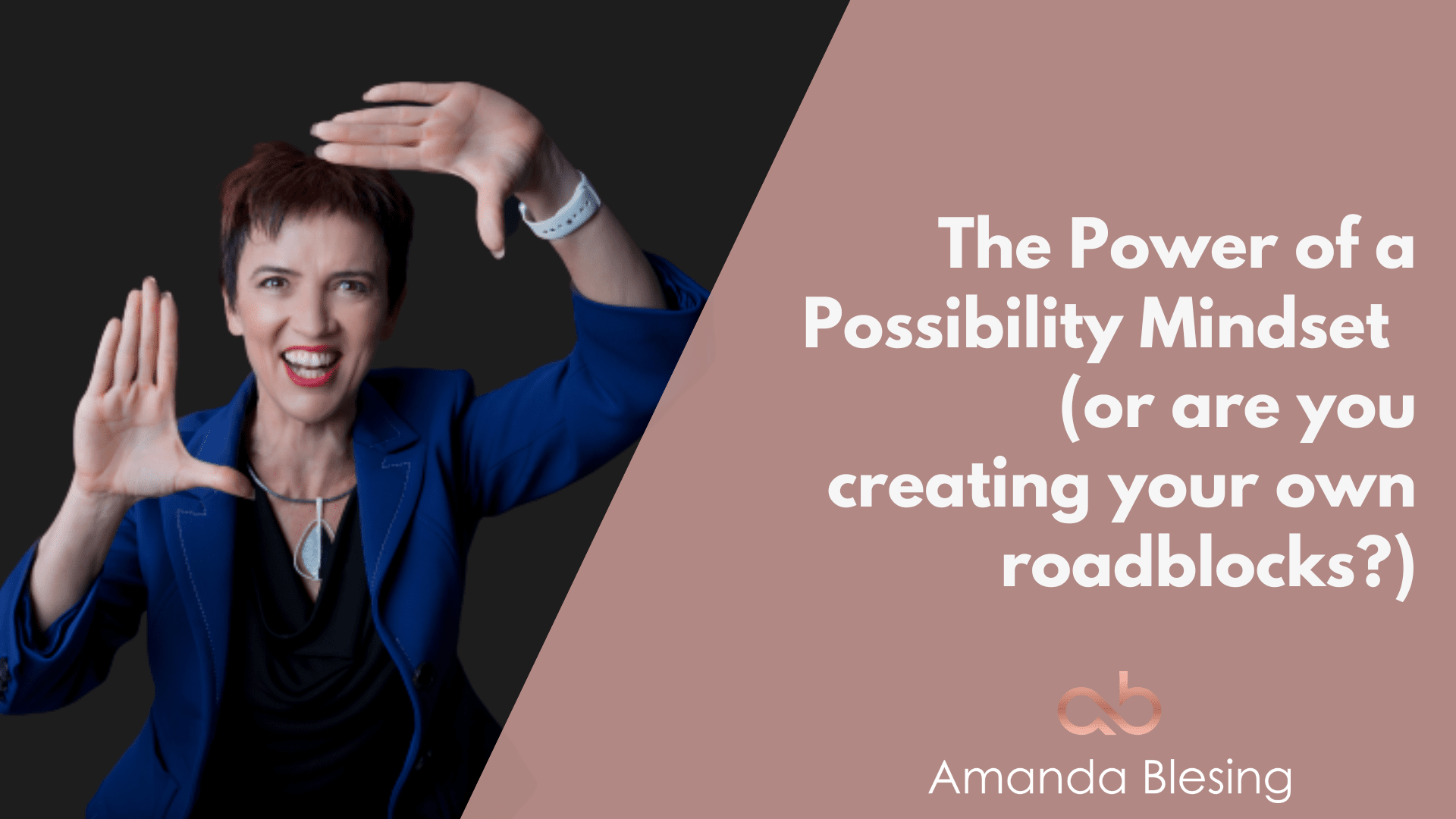 When I'm working with clients, depending on where they are up to in their own personal journey, I sometimes hear a lot of  "that's not possible for me" or "I don't know how to do that", or "that's fine for some people to afford, but not for me".  I call this roadblock behaviour and the science is now in – it won't get you very far.
 We all do it at times and it's not gender specific, so if you can hear yourself in these phrases (and I hear myself too), don't worry – it's just a phase, and you can move on from there.
But let's be clear, when it's time to step up, speak out and take charge we need to go into this with a possibility mindset as opposed to a roadblock mindset.  We need to go wide before we go narrow.   We need to be open to all ideas, because it might even be a combination of 10 ideas that sparks the one thing that  lights your fire.
A possibility mindset means that when a new idea is presented, we see a range of possibilities that might potentially be available, options, variations, a light at the end of the tunnel.   It's a bit like having rose tinted glasses. And the good thing? Recent research is proving that this type of positive thinking, seeing the good not that bad, actually changes your brain in positive ways. In fact – it's entirely possibly to change yourself from being a pessimist to an optimist in just 8 weeks!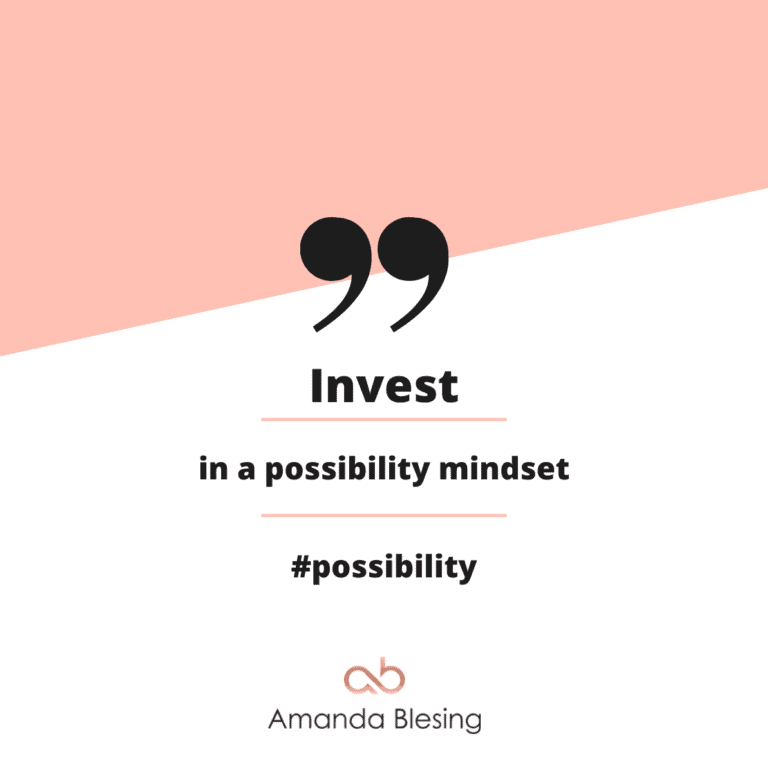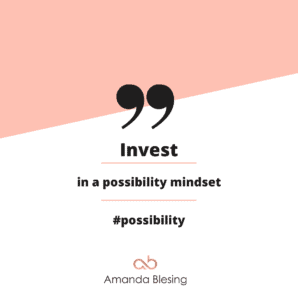 The flipside is a negativity (or roadblock) mindset that just shuts down any idea before its fully teased out and explored, keeping you feeling stuck, frustrated and playing small.
I remember years ago when I first started to "amp my own smart and savvy" with a mentor of my own and we were exploring options.  I felt stuck and frustrated in my role but couldn't see a way forwards. It was a good role, had lots of development opportunities but I'd outgrown it somewhat. "Where to next" was totally beyond me and I couldn't see the wood for the trees so to speak – hence me working with a mentor.  I'd even read What Colour is your Parachute in a desperate attempt to crack it on my own – but still wasn't any closer to an answer on how to see myself differently or how to see the value in what I added rather than describe the specific work I did.
So my mentor started to get me thinking about all the things I loved doing, challenges I relished tackling, problems I liked solving and people I liked helping. Then she told me a story of someone she had known who got creative with her approach to job satisfaction and remuneration.
Picture this – a stay at home mum who in a previous life had been a copy writer. She was bored but more importantly wanted to bring in an income stream to help look after her family. So she became what's called a "professional comper". Professional comper I hear you ask? Yes. Professional comper. She used her copy writing skills to go in lots of competitions that asked for a response "in 25 words or less" or there abouts.  If and when she won a prize (and she won a few), then she would auction the winnings off on Ebay. Now don't quote me but I heard that she was bringing in $60K per annum doing this, give or take.
Now I have no idea if this person was real or imagined or even if her approach was legal or not. However what I do know was that this story (true or false) really appealed to me – and instead of seeing roadblocks I started to see other ways of solving my own problem. If one person could be creative then so could I.
In the example above the woman had small children and:
Couldn't leave the house (roadblock) so she solved that by working from home (possibility)

Couldn't work regular hours in an office (roadblock) – so she did her work at any time of day or night (possibility)

Didn't really need the prize winnings (roadblock)– so she sold them on Ebay and turned her winnings into things she did like (possibility)

Didn't win anything at first (roadblock) – so it became a numbers game and an opportunity for growth until she developed enough skill and technique to win enough prizes to bring in a reasonable income (possibility).

Didn't want to do this for the rest of her life (roadblock)- but used it as a spring board for down the track when she had more personal freedom (possibility).
So what roadblocks do you put up when someone presents an idea or opportunity to you? When do you shut a conversation down because you can't see the road from A to B as a straight line or it doesn't fit with a predetermined reality you had imagined for yourself?  If a promotion  or business opportunity comes your way but it's not perfect, do you say "maybe and if this part was changed I'd love it so lets start talking"? Or do you say "no way, I'd hate that part of the job so the whole thing is not for me"?
So the lessons for me?
There is more than one way to solve a problem,

Success doesn't happen in a straight line and frequently doesn't happen over night,

If you keep an open mind then you will see more opportunities than others,

Don't let a job title, a salary band or peer expectations pigeon hole you and keep you narrow,

Don't let notions of right or wrong, good and bad, best and better get muddled up with what makes you happy, what brings meaning to your life and doing big, important work.
Your thoughts?
In a world where women account for less than a third of key management positions, female leaders need to take control of own careers and success more than ever.