Three Smart Ways to Create Your Own Reality that Aren't "Woo Woo"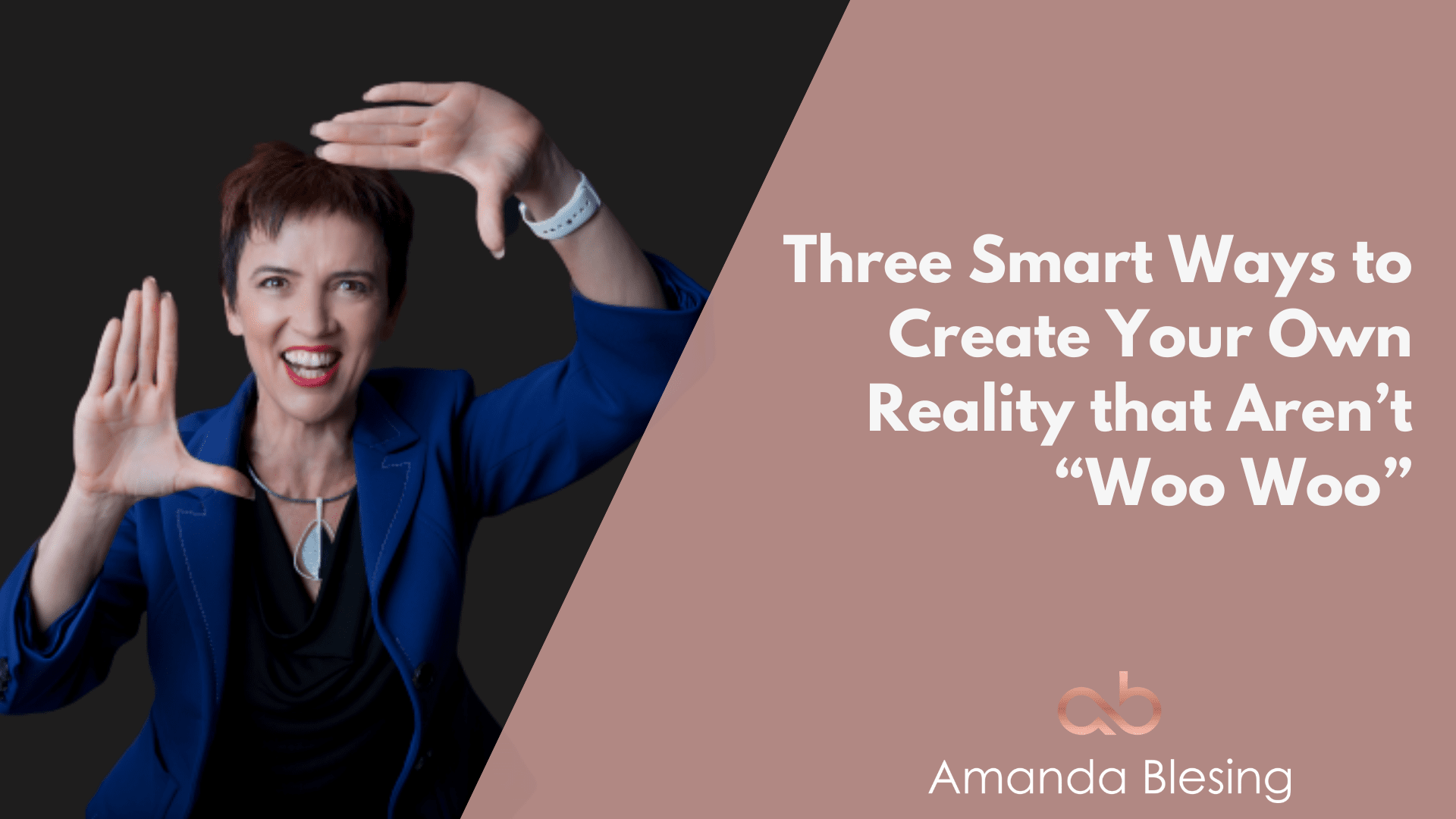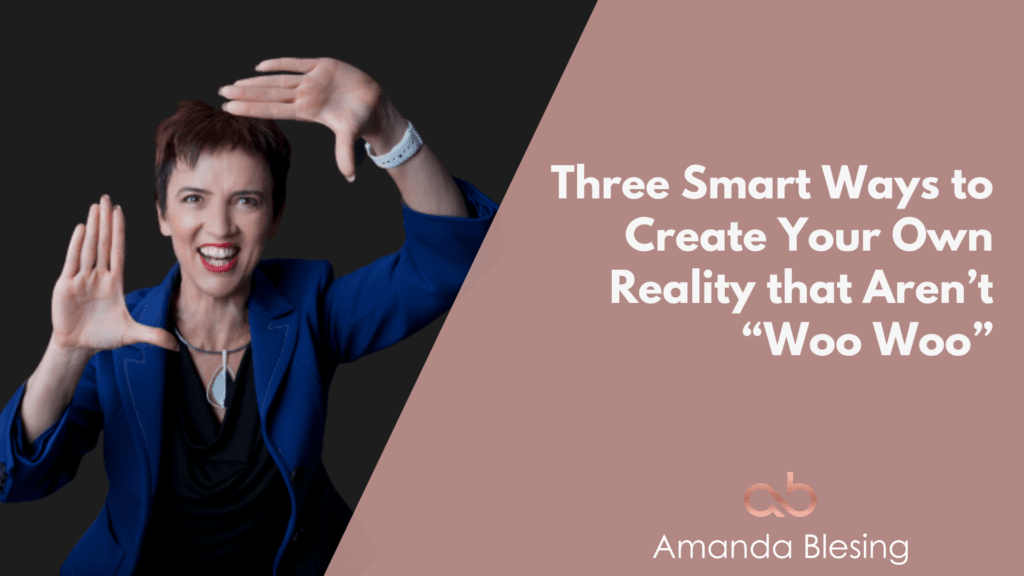 "Create your own new reality."
I hate the phrase. It jars, it sounds a little woo woo and  ……….. (here's the kicker) –  you not only can, but probably should.
But for those of us who have been raised on a steady diet of waiting –
waiting to feel ready,

waiting to be noticed for doing great work, or

waiting to be rescued,
creating  your own new reality might be something that you believe is suitable for entrepreneurial types, extroverts and other people.  So  perhaps the following examples will show you that it's also right for you.
Women, socialisation and why it might hold us back
Creating your own reality –  takes energy and time and a propensity for thinking out side the square. It requires people to regularly not do things the way they've always been done. It requires a tendency to bend the rules, deal with uncertainty and cross over blurred lines. As women though, we've got a bunch of socialisation that sometimes gets in the way of thinking this way.
Compliance: As a women we've been socialised to do things correctly, to play by the rules, to respect authority figures. I remember sitting in traffic frustrated by a traffic jam but doing the right thing – as I watched others drive across the median strip to escape the block. "Doh!"

Not stand out: As women we may even have been socialised to not stand out from the crowd (unless in aknowledgement for doing things properly) and that to do so is unseemly and possibly bragging – also not a good thing as we're supposed to put others first.

Office housework: As women we've also been socialised to pick up the slack at home and in the office so that things run properly. Sheryl Sandberg and Adam Grant wrote an excellent piece in the New York Times on how women do the bulk of the office "housework" and frequently not to any career advantage.

Caught out: Frequently women and men experience imposter syndrome differently – when you become so worried about underperforming that you believe that people will find out that you don't actually know what you are doing.
"Both men and women suffer from it in different ways, but it does affect both sexes ………. With women they are more likely to be afraid of success – as well as failure – because they sense there will be a price to pay in other parts of their life. ……….. With men it is more 'fake it, until you make it'. They think the syndrome is part and parcel of work life and they tend to push through it." According to behavioural change consultant Suzanne Mercier
It doesn't have to be this way
In recent years I've come across three instances of highly successful women creating their own new reality.  Not only were they also successful in achieving their goals but the strategies are realistic, practical and provide us new ways of solving old problems. Each of them challenged my own beliefs about what was probable and what was appropriate. Yet each of these ideas excited me about what was possible.  In fact, these examples were part of a critical turing point in my own thinking –  that taking an active and participatory role in creating your own success, is not boasting, is not only desirable but in fact, mandatory for anyone with a skerrick of ambition.
Example 1: I met a Life Coach and she had just been integral in winning one of her clients the Telstra Business Woman of the Year Award. You guessed it. This super smart client in the wellness sector wasn't leaving things up to chance but decided to tackle the rather daunting process with a coach who focused on confidence, accountability and the language of the business world to keep her in the running and make the effort worthwhile.

Example 2: Some years back a peer was appointed in a marketing capacity for an organisation – and her main responsibilities for the year were to ………… (wait for it)…… help the female CEO win the Telstra Business Woman of the Year Award. Once again, this smart and strategic CEO acknowledged that her skill set lay in running a company, not winning awards or objectively talking about her own great work. Therefore she employed someone to tackle the task on her behalf.

Example 3: I met an author in the final stages of publishing her first book. Her strategy included forsaking her speaker fee at several rather large conferences in return for the organisation who had booked her to speak, purchasing books for all delegates – as presales. And the purpose? To help this smart and strategic new author reach #1 on the New York Times Best Seller list more easily.
Stop being busy and start being strategic
My best ideas never happen when I'm busy at work in front of the computer. In fact they always happens when I'm relaxed and taking a break from work.  If organisations were smart they'd realise this and instead of keeping their staff so busy running in and out of meetings, they'd insist on quiet time, reflective time or reading time. But I guess that the productivity of quiet time is hard to measure and introduces a whole new topic of trust (or lack there of) …… and that's a subject for another day.
There's a bunch of science on the immense power of down time, reflective time and mindfulness,  so I can't emphasise how important it is for us to stop valuing being incredibly busy and instead start working smarter –  allowing space and opportunity for creating your own reality.
Here are a few really easy examples you might try in the first instance:
Find a mentor or coach to help you work out what's important to you and to keep you accountable and focused on big audacious goals,

Pay an expert to write of your CV or LinkedIn profile,

Pay a marketing expert to write your media kit, or do your web strategy,

Many business leaders use ghost writers when they publish or have staff who handle their personal social media platforms.
Let's see the wood between the trees
So if you're feeling stuck or frustrated in your role,  maybe you've been pidgeon holed in a career path and can't see the woods for the trees. Possibly you're even wondering why no one has noticed how well you've been working or why no one has pointed out that your inner potential runneth over.  You could wrestle with the issue all on your own, or you might choose to hire a mentor or a career coach to help you get there faster and more easily.
Vive la révolution!
 #ambitionrevolution
In a world where women account for less than a third of key management positions, female leaders need to take control of own careers and success more than ever.