#1 advice for those heading to their first Board position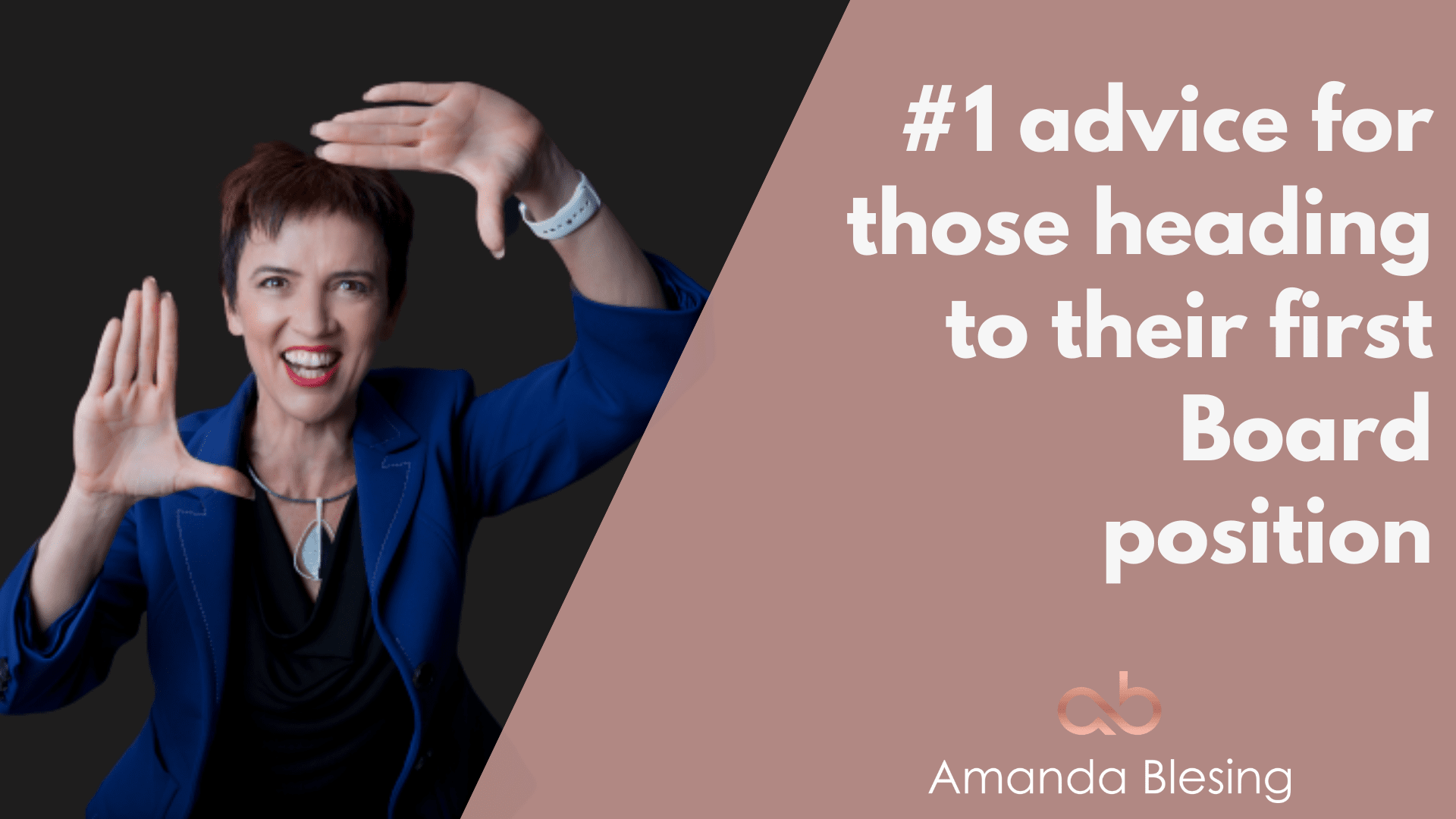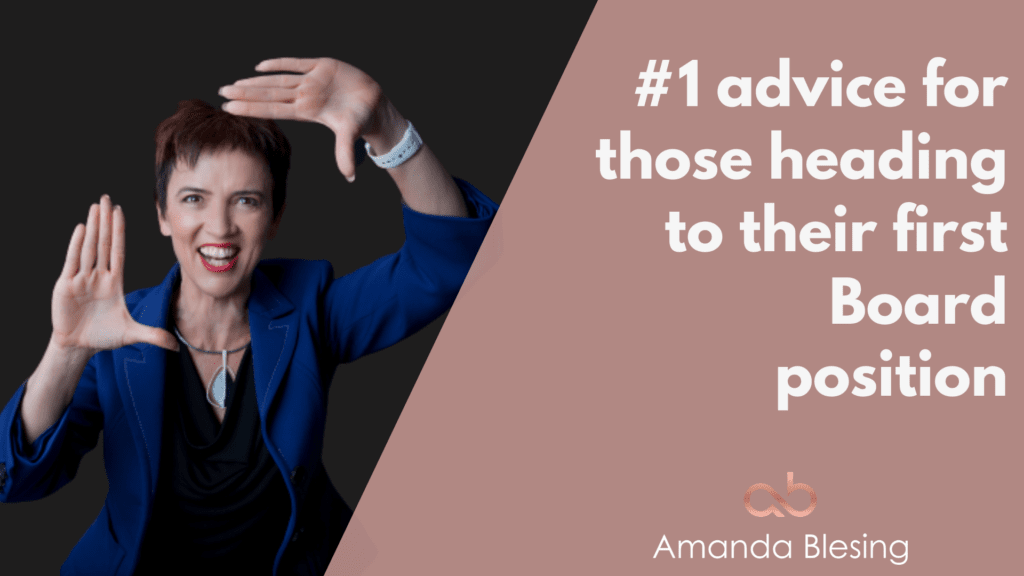 Gender diversity is not simply a nice to have, but is a performance lever for business.  Organisations need women in strategic leadership roles in order to drive better performance – and women on Boards is one avenue to ensure that performance lever is pulled.
The best bit for you is that landing a position on a Board is seen as a strategic career move, positioning you as leadership material, gaining you exposure to other senior industry figures and, for those heading into the Not For Profit (NFP) sector, enables you to give back in some way to a cause or purpose with meaning.
However those first few Board meetings can be daunting as there are frequently a range of unwritten ground rules, behaviours and personalities to navigate – along with the more tactical, reflective and influencing expertise you'll need to bring to bear on discussion items.
So to assist those heading into Board territory I've asked several experts to provide their number one piece of advice to ensure your foray into the world of being a director is both effective and satisfying.
Susan Colantuono is a speaker, author and internationally acclaimed expert on taking women from career-start to the C-suite and onto corporate boards whose TED Talk on closing the leadership gender gap has 3 million views.
Susan's # 1 piece of advice: Heading into your first Board role it's essential that you understand the difference between "governance" (the role of the board) and "management" (the role of the executives). This is especially important because many first Board experiences are on nonprofit Boards where directors are expected to fill in for management. Be aware of when it's appropriate (raising funds) and when it's not (second guessing the CEO). Read everything you can on Board excellence. I highly recommend Beverly Behan's works including Great Companies Deserve Great Boards.
Penny Bingham-Hall: After more than 20 years in the corporate world Penny embarked on a career as a Non Executive Director (NED) 6 years ago and now has a wonderful and diverse portfolio of ASX100, government, unlisted and NFP boards which she loves.
Penny's # 1 piece of advice:  Allow plenty of time to read your board papers properly (it gets easier!) and ask the company secretary for explanations of any acronyms, project names or references you don't understand before the meeting so you are as well informed as you can be. Then walk into that first meeting quietly confident that you've been appointed because they value your skills and experience, and because the other directors think you will fit into their team. Don't feel discouraged if you don't contribute a lot to board debates in those first few meetings because it takes everyone a while to really understand a new organization and be able to apply your particular expertise to the task at hand.
Steve Bowman is an internationally recognized Governance, Strategy, Risk and Leadership advisor to organizations worldwide. He has been advising Boards and NFP leadership for years on governance, strategy and performance.  He regularly presents, publishes and consults on the critical importance of remaining strategic.
Steve very generously says: The key to making a true contribution to your Board and the stakeholders they are creating the future for, is to be strategic from day one. Here are some very practical pointers for you to consider prior to your first Board meeting.
Read your strategic plan, understand the key strategies, and be prepared to ask questions at the Board meeting that use the strategic plan as a filter. Some of these questions might be "How does that assist us in our strategic direction?" "Where in the strategic plan dos this fit?" "Going forward, what are the strategic issues around what we are discussing?"

Read and use your vision statement to help shape your comments and questions. Focus on the two or three key elements of the vision, and reflect them in your discussions and comments

Read your financial statements for strategic insights, not dollars. Key questions to focus on include "What are the strategic implications behind any key reasons for variance?" "How do our key ratios measure up against our agreed ranges for those ratios, and what are the strategic implications of these ratios?" "How is our cash flow shaping up against our budgeted cash flow and what if anything do we need to start doing about it?"

Make sure you understand the two or three key risks that the Board have agreed, and weave them into your conversation or questions.

Make sure you insist on receiving an induction program that includes mandatory mentoring, is developed over a 12 month period, and is tailored to your needs.

And…enjoy the contribution you will bring to your Board, from the first Board meeting. There is a chance you will be better prepared than a number of longer serving Board members.
Sharon Berkefeld has held both executive and non executive Board roles in the NFP sector and heads up her own online retail company, she is a graduate of the Chartered Institute of Company Directors, and CPA and will commence her PhD in Directors Duties in 2017.
Sharon's # 1 piece of advice: Value yourself, the role you play and the contributions you are making to the board, the organization and the broader stakeholders. It is my firm belief that unless you believe in yourself and take pride in your value no one else will.
So there you have it.  It's not rocket science, it can be challenging but it can also be an extremely rewarding to flesh out your career.  In a nutshell:
Stay strategic

Do your due diligence and homework

Don't be afraid to ask questions or for help in understanding the reports

And do place value your contribution.
So don't be shy.  Do your Board training then work out where your expertise or strategic influence might be best utilized and go find a position where you might be able to make a bigger and more strategic difference.
Vive la révolution!
#ambitionrevolution #LookOutCSuiteHereSheComes #feminineambition
In a world where women account for less than a third of key management positions, female leaders need to take control of own careers and success more than ever.