When sexist comments make your blood boil ….. go postal!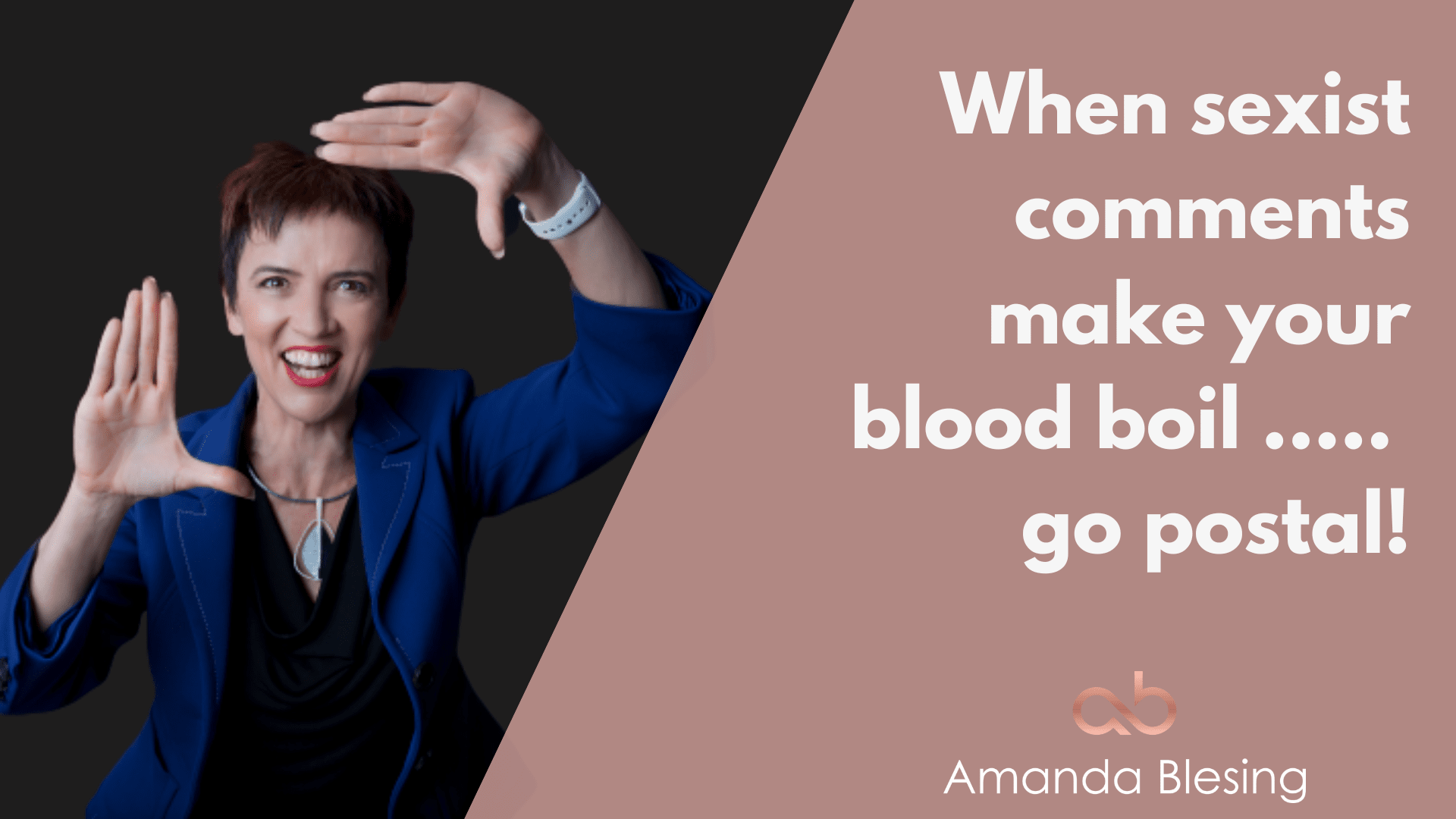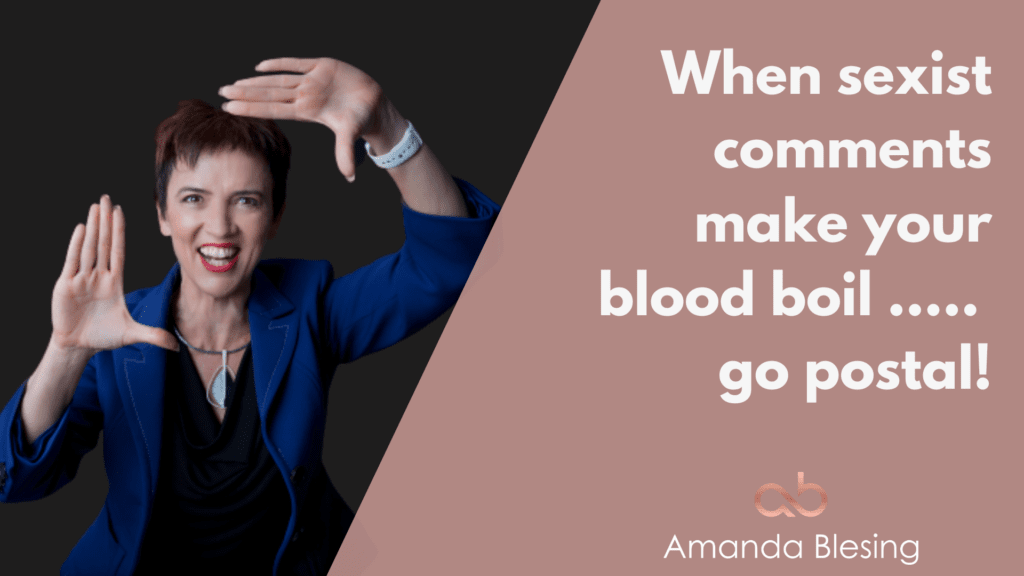 A funny thing happened on the way to Brisbane the other day.  I was sitting on the plane, when a man sat down next to me.  We exchanged details (him: financial columnist, me: executive coach for executive women).  The ensuing conversation (documented below), ended with me feeling frustrated, flabbergasted ….. and angry.
Oh no.  I'm "that angry woman"
The Angry Woman Stereotype
The stereotype of an angry woman is  …… emotional, out of control, less logical and less credible. We all saw the way that Hillary Clinton was portrayed when she displayed anger.  It's a tough gig to remain credible as a woman when you are known for being angry.
What the Research Says
Researchers from Arizona State University and the University of Illinois at Chicago looked at the differences in the way we perceive angry men or women and highlighted the double standard.
They found that "women's anger worked against them, while men's anger served as a "powerful" tool of persuasion. When the holdout was a male who expressed anger, participants significantly doubted their own opinion, even when they were in the majority. But if the holdout was a woman who expressed anger, she actually had less influence over participants -so much so that it was the only scenario in the study in which participants became more confident in their own opinion that opposed that of the woman."
The alternatives for women are pretty limited – grace and poise under pressure still come to mind.
Then that's it. Nada.
Going Postal
So what recourse did I have? How could I do something, express my outrage yet stay credible?
So I created a (semi) viral LinkedIn Post. I call it "going postal".
Going Postal – normally refers to out of control anger. Definitely a career limiting move (CLM) for leading women and men.

"going postal" (note lower case and yes this is my new definition) – creating a LinkedIn viral Post to drive awareness and change.
Jane Anderson, Influencer and blogging expert, in a recent blog talks about staying above the line.
Below the line = criticising, negative, using fear.

Above the line =. drawing attention and proposing a positive solution
So my definition of "going postal" also includes an element of positivity.
So what got my dander up? 
Read the blog below – then head over to LinkedIn and tag a financially savvy woman somewhere!
The above the line action? After a week, I'll be emailing my flight buddy with a list of fabulously financially savvy women for him to refer to in his next column!
Let's kick this stereotype to the curb (yet again).
Read on …. and be prepared to be flabbergasted  …
---
I was shocked  by a sexist comment yesterday on a flight. "#Women simply can't manage money as well as men", he said.
This wasn't just any sexist guy, it was  #Financial columnist for a well known publication
"Women don't care about money – they care more about people" he went onto say.
WTF
A total insult to most of the women in my circle of friends and colleagues if not all women everywhere!
You'd think I was back in the 1950's
I can't even excuse his age because my grandma (even older than he) was AWESOME at #financialmanagement.
I nearly had an apoplexy!
Bias and stereotypes are rampant in our business world. And with so few women visibly leading the financial space, it's no wonder.
It's far easer to accept the old narrative and stereotyped norms as a version of the truth. Hang out with enough people who think the same as you, and you'll end up with a bad case of confirmation bias to boot!
Three financially savvy women I admire –
Sally Krawcheck, Ellevest

Christine Lagarde, IMF – and closer to home

Gail Kelly, 1st female CEO of a major Australian bank
 >> COMMENT – Which women do you know who are AWESOME at finances and who care about #finance and #people?  TAG a financially savvy woman somewhere.
Let's kick this stereotype to the curb (yet again).
R.E.S.P.E.C.T. (vale Aretha)
#feminineambitionrocks #womenofimpact #linkedInlove
In a world where women account for less than a third of key management positions, female leaders need to take control of own careers and success more than ever.