Refresh! Five Easy Ways to Refresh your Brand, Even in Semi-Lockdown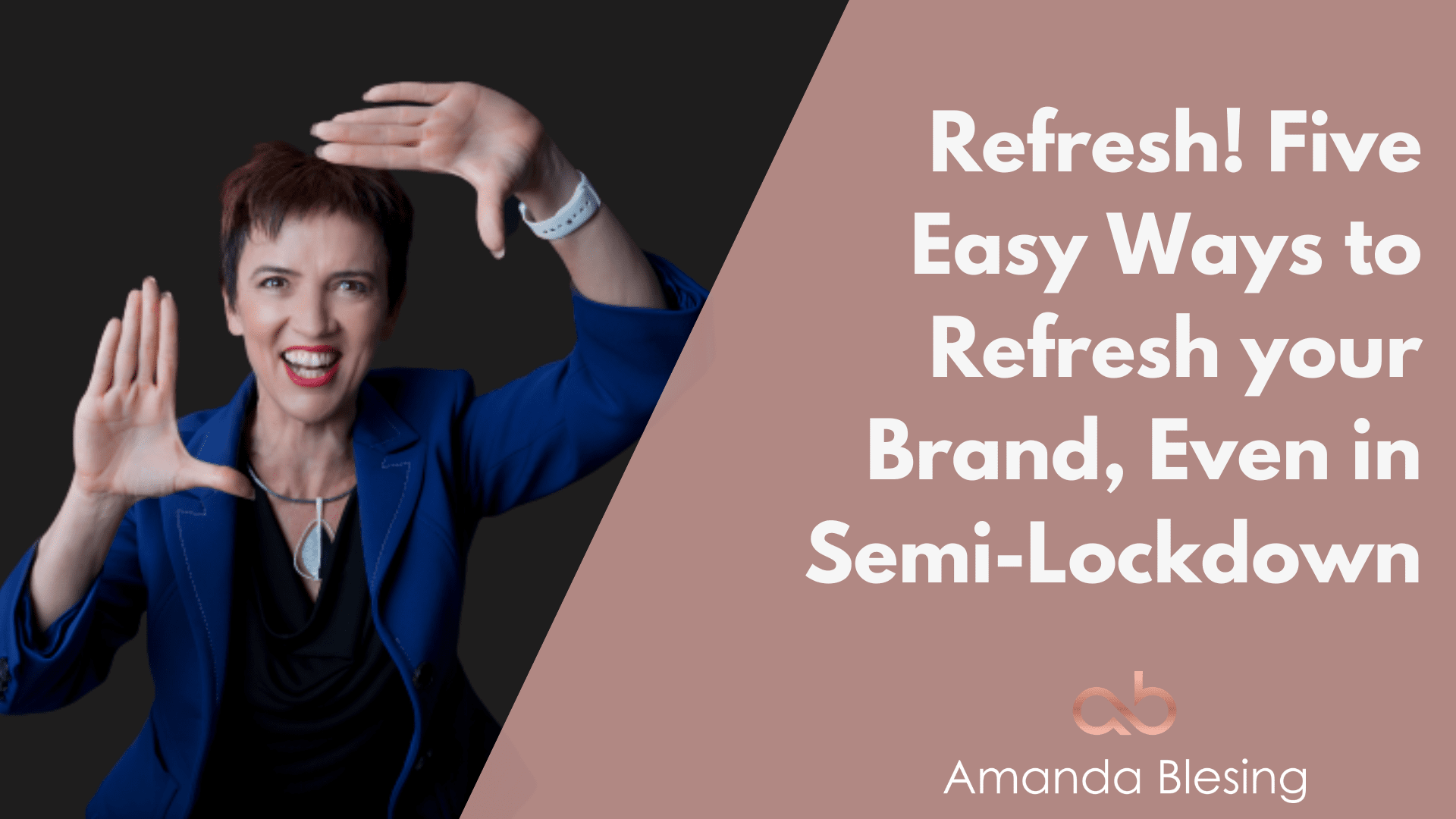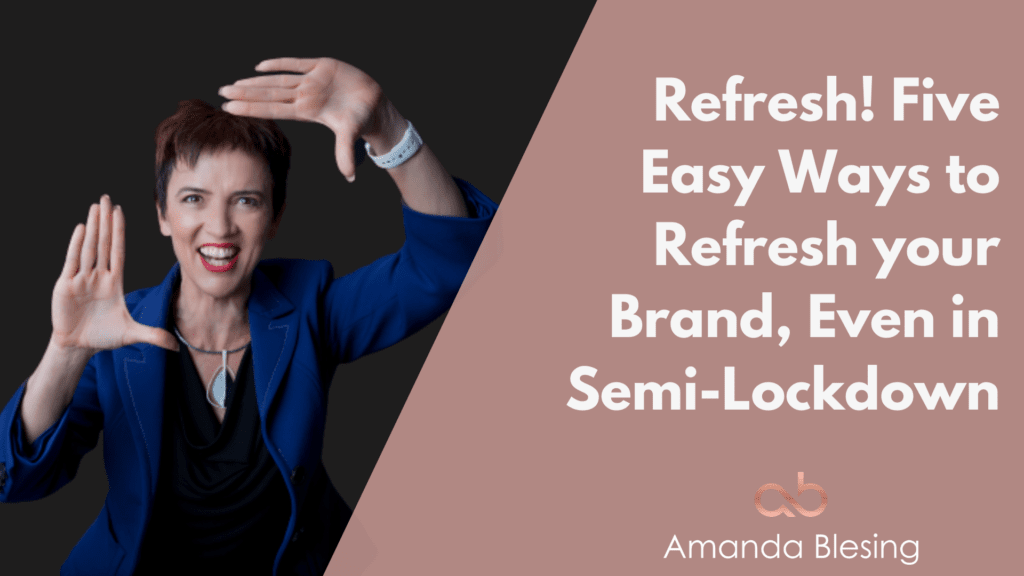 There is no disputing that 2020 has been a tough year. Here in Melbourne we've had an even longer lockdown, over what felt like a cold winter too. Which means that right now we're enviously watching the rest of the country go about it's business relatively unimpeded by COVID restrictions and it's definitely making us jealous!
All in all – no matter where you are from, it's likely you're feeling a bit blah as we head into spring. As I mentioned it's been a crazy year.
Five easy ways to refresh your executive brand even in lockdown
So what can you do to refresh your executive brand even in semi-lockdown? Here are five easy (and even free) ideas you can implement immediately that will deliver huge ROI not just for quick gains, but for the long term as well.
1. Invest in a makeover for your CV
Focus on both achievements and appearance. It's highly competitive out there right now with heaps of people applying for a very few roles in an economic downturn so you'd be wise to take your CV makeover seriously.
– Update your major achievements and yes you definitely need to quantify as many as you can. Remember Beyonce's "if you want it you've got to put a ring on it"? Well for CV's – if you want to include it on your CV, you've got to put a number on it, or qualify at the very least. Start quantifying now.
– Go back to old roles and ditch anything that's out of date or not relevant any more especially if you're trying to land a role in a different sector. Transferable is one thing, irrelevant or out of date is totally another beast.
– Why not try something a bit different with the visual appearance of your CV? Canva has some great templates. If it's highly competitive you'll need an attention grabbing version of your CV too. Something that will open doors and help you not just stand out from the crowd, but remain memorable.
2. Give yourself a virtual facelift – LinkedIn headline, background image and featured items
Late to the party doesn't have to mean you've missed the boat. There is no better way to stand out and be noticed by the people who have the power to make or break your career, particularly when working online is here to stay.
LinkedIn recently increased the number of characters you can use in the headline area (from 120 to 220). This area is also like water front real estate in terms of searchability and standing out, so refresh your headline immediately.

I also recommend refreshing your background image regularly in line with your career goals. Just like you dress for the role you want, not the role you have, you can do the same with your background image and point it in the direction of where you want to go. It's amazing how good you feel about yourself with an image that enhances your brand and career goals. No more set and forget for you. Refresh this quarterly and notice how it bumps your confidence.

Finally, refresh what you've got in the "featured" area near the top of your profile. This is often a forgotten area because we sort of take it for granted or we simply don't know we can change it really easily. If you're not "featuring" recent posts, then think about adding a few images or web links that enhance your brand. It's really quite easy and is a brilliant way to grab attention for all the right reasons, without spending any money what so ever.
3. Redefine your goals, not your fears
Now is a great time to refresh your career strategy. While the goal posts might have moved, that doesn't mean you can't aim for something big and exciting in the long term. I've noticed that for many, the COVID environment has knocked their career confidence. We're scared about the future and dropping back into default mode again, relying on old ways of operating that are a bit like a comfort zone.
How does this impact? It means that instead of aiming for the stars we're all simply putting one foot in front of the other.
Instead, revisit your career strategy, tweak it as you need, but start aiming for something exciting once more. After all, if you don't know where you're going, how will you know when you get there?
4. Upgrade your language, upgrade your life
Refresh the language you use to describe yourself on and offline. I suggest setting up a table with two columns. In the left hand column you list the things that an under confident, fearful you might say. In the right hand column, list the things that a super confident, amazing and strategic version of yourself might say.
This is great preparation for a meeting, on LinkedIn or an interview as it helps you to elevate your language in a systematic way and feel super prepared that you will be able to respond and reframe really easily.
Embody the brand you want to be! – Amanda Blesing
5. Soar with the eagles
Conduct a network audit then refresh your network based on your brand new goals. Avril Henry, Leadership and Gender Equity Expert, suggests this as an annual activity. Audit your network. Get rid (i.e. drop off your list) the people who keep you playing small or are draining on you and your career goals. She normally suggests you do it at the beginning of a new year. But why wait? Try it now while you have a little time and are looking for things that can help you refresh your brand, your energy and your approach. And be sure to connect with and nurture those who keep you shining brightest.
"No one can make you feel inferior without your consent" ~ Eleanor Roosevelt
THE RIGHT TIME, WHILE NOT PERFECT IS NOW
There is an old saying that the only person you can really change is yourself. Right now if you're feeling a bit blah, then it's time to do something about it.
No more standing on the sidelines looking in, or waiting in the wings for opportunities to find you. Instead replace that with the 'gold standard' of executive branded – proactive, intentional, future focused and strategic.
I bet that as soon as you've refreshed these five elements of your brand, you'll start finding other things you can do that give you back your sense of certainty and professional mojo again.
Your thoughts? What will you do next?
And be sure to reach out if you want help with that.
In a world where women account for less than a third of key management positions, female leaders need to take control of own careers and success more than ever.