3 Lessons for Executive Women on Speaking Out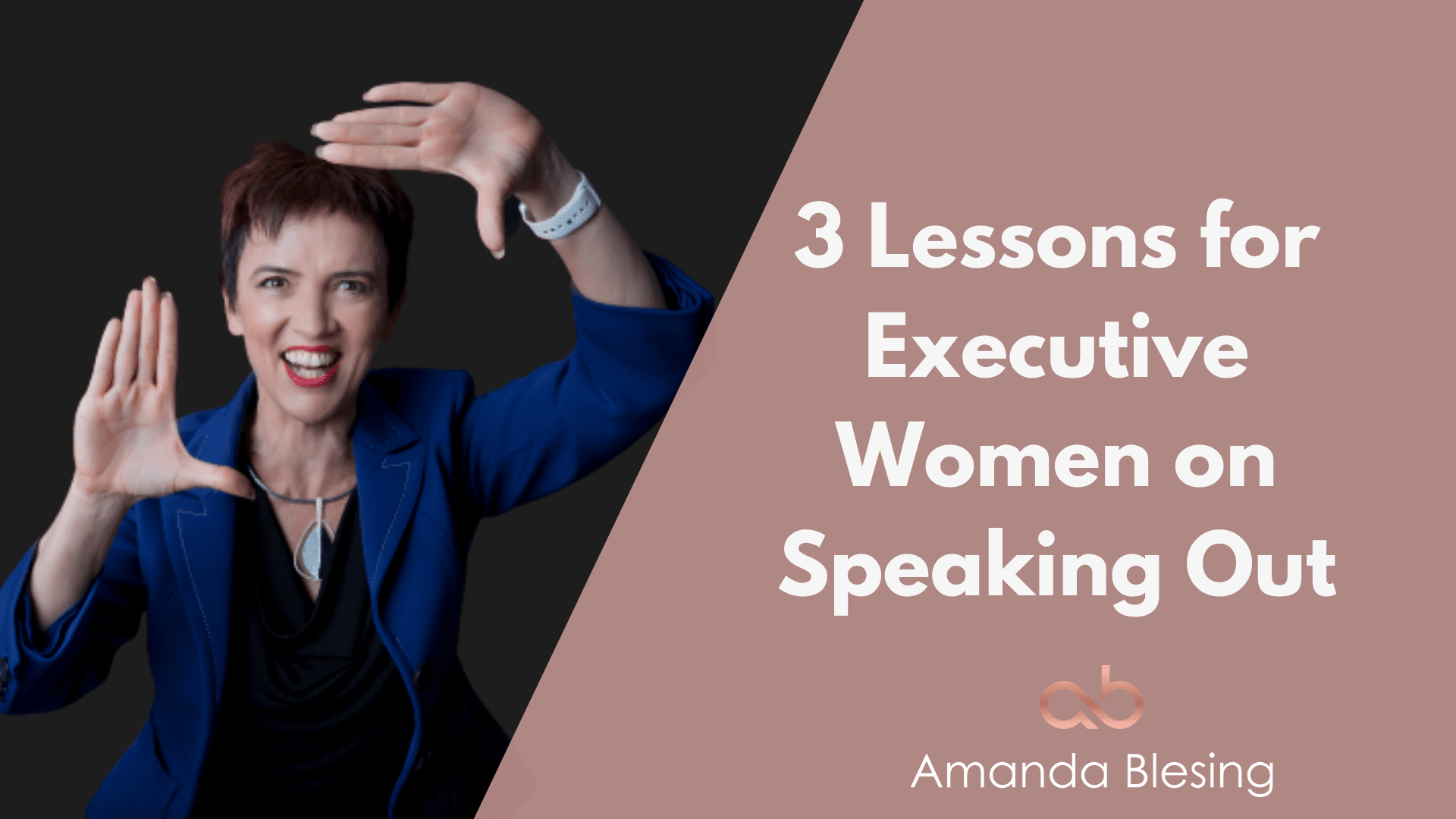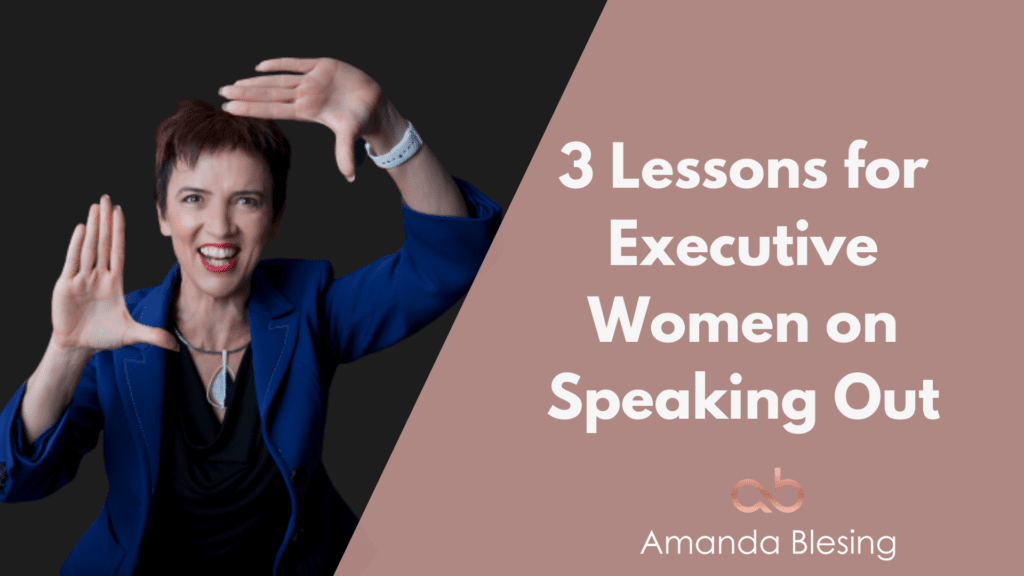 "Speak out even if your voice shakes"
While I've always known I could talk with a mouth full of marbles underwater, speaking up and out for things that were important to me has been much more challenging.

I'd frequently get word salad, or giggle at the end of saying something controversial, or worry about not being liked …… which, let's face it, means that I've never stood up for myself anywhere near frequently enough and over time this really undermines your self-esteem.

Given too my work with executive women and helping them to self-promote more effectively, I'm all too aware that speaking out and adding your opinion can be really tough for women especially when driving a change agenda.

Female voices are labelled as shrill or whiny especially when we are expressing a different or controversial opinion – unless you sound like a man. As a result women's opinions aren't always heard at the highest levels, as we've either been shamed into silence or as men simply "can't hear" us when we speak.

Plus when you don't fit in or you feel like your opinion isn't even heard, it can make you wonder why you even bother.

And yet, business does better with women's voices heard throughout.

Learning how to speak out has been one of my biggest career achievements and one that I've come to rely on immensely, yet it remains a work in progress. It's taken focused effort and heaps of practice and I had to find a platform that really worked for me.
WHICH LEADS ME TO MY FABULOUS NEWS!
Earlier this week I was awarded a LinkedIn Top Voice Award for my posting in 2021. WOOT!!
Shout it from the roof tops! Thanks to everyone who has liked, commented or reshared my content because that's what it takes to become a LinkedIn Top Voice.
What have I learned in the process? Heaps! So I've unpacked some important lessons around learning to find your voice and speak up even if your voice shakes – because it's not just good for business, it's good for everyone.


THREE LESSONS TO HELP YOU SPEAK UP, EVEN IF YOUR VOICE SHAKES
1. Find your sense of purpose – dig deep into your why. Finding a purpose, mission or cause helps women, in particular, to depress the "modesty norm" which often undermines our attempts to step into the limelight.
It might be a values driven why – "I need to ensure my voice is hears at the highest levels because we need to implement this change because it's the right thing to do".
It could be a professional why – "If I don't speak up now, this project runs the risk of tanking"
It could be a personal why – "I need to ensure my opinions are heard because I don't want to end up a bag lady with no super".
It could be that it's in service to others – "I raise up my voice because it helps my team get recognition for their amazing work".
When you find your why, it makes speaking up so much easier.
2. Find your authentic voice – stop trying to sound proper or like you're regurgitating an HBR article. Others resonate more with your messaging when you are able speak your truth in your own voice, not in the voices of others. Sounding like someone else is plain and simply hard yakka! Instead, use real life examples and metaphors from your own experience, rather than try to impress others with how academic you sound. Not only does this make speaking out easier, but your audience will connect with you more as well.
3. Find a platform that works for you – then get really comfortable with it until it becomes second nature. I've been practicing at LinkedIn for years, working out what works, what doesn't and how to get more ROI from my content. But perhaps your platform is podcast interviews, or board meetings or being quoted in the press. Not only will this keep you confident, but it will mean you are more likely to lean into sharing your opinion more consistently.
Which leads me to your bonus tip.
BONUS TIP 4. Stay consistent. Women are busy enough so I'm always looking for ways to prioritise for impact. My posting cadence in 2021 was on average, one post per week. Yes, that's it. Then the time I saved from not having to post daily, I used instead on making sure my writing was strong and my message was bold. What this meant was I didn't have to wear myself out thinking of new things to say all the time and I also didn't wear out my welcome. There is a rule on social media that you should remember and can be applied everywhere – in meetings, for your conference speaking and even with your networking events. Consistency trumps frequency, and even virality. Develop a consistent cadence that works for you and your audience and network will appreciate you even more.
Speaking out, stepping into the limelight and truly owning your voice and opinion in more masculine dominated environments can be really challenging, yet incredibly rewarding. I hope the tactics I suggest above help you find your own voice too.
Because not stepping up, speaking out or taking charge will keep you feeling stuck and prevent you from realising the full extent of your professional and personal worth. This does little justice to you and the organisation you work for. To overcome a few of these issues will not only increase your confidence, but new opportunities will present themselves effortlessly, as will the feeling of being back in the driver's seat of your work, career and destiny again.
YOUR THOUGHTS? What helps you to speak out? Drop me a note with what works for you. Thanks in advance!
#womenofimpact #LookOutCSuiteHereSheComes #ICreateSheroes #FindYourVoice
I recently shared a cheeky reel featuring Suneera Madhani. Asked "What do I bring to the table?", Suneera responds "I AM the table".
Many women get invited to speak at conferences and events for free.  If you're an executive woman and you are representing your organisation, that's understandable as your company is paying your salary. However for consultants, this is tough.