3 Ways Women Can Double Their Salary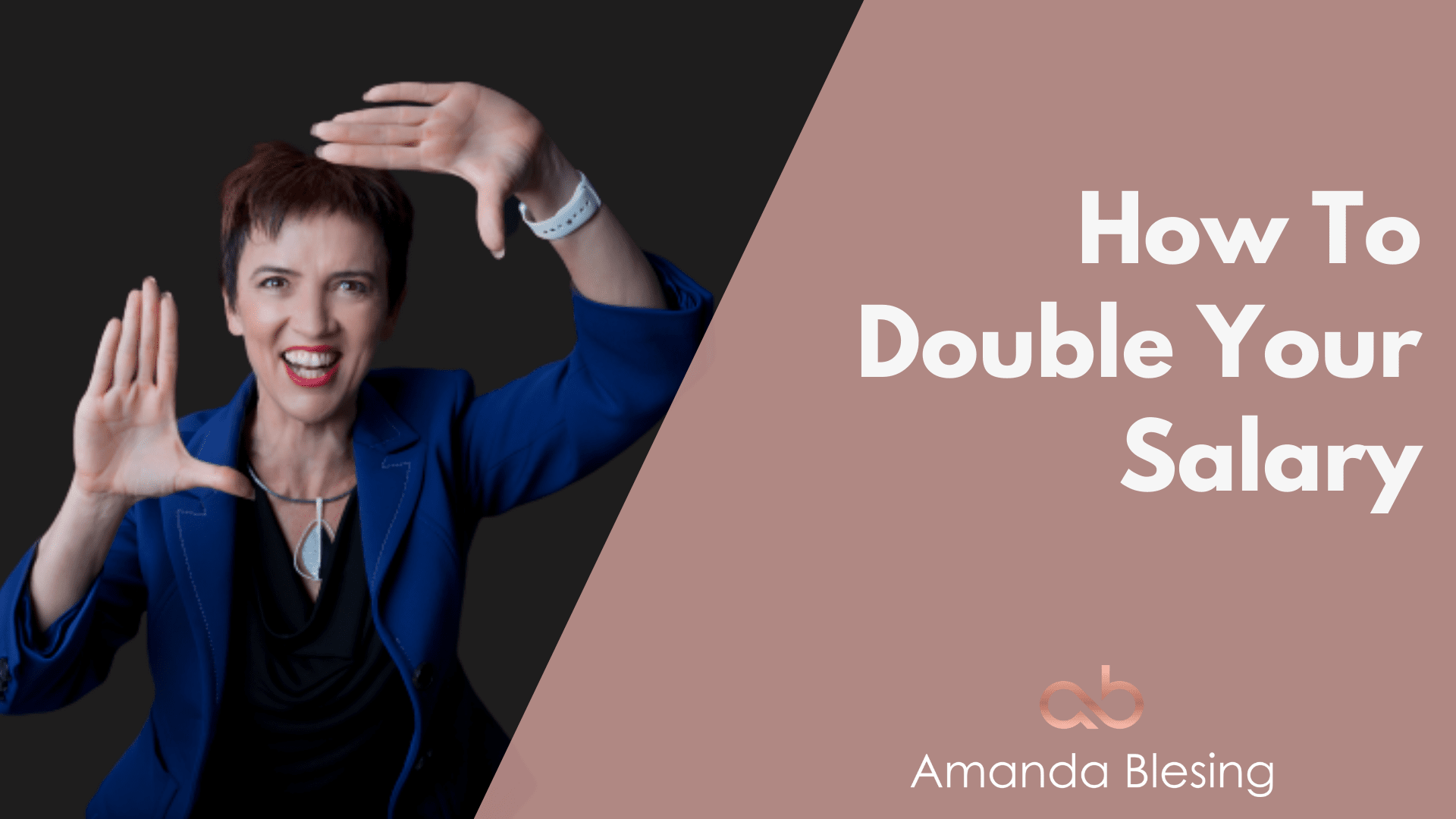 "You need to work harder for the money"
"Money doesn't grow on trees, you know"
"More money brings more problems"
"You can't earn great money doing something you love"
These are the types of stories we all tell ourselves that keep us worn out and exhausted because we think we have to sell our soul to the devil in order to earn a big salary, so we settle for salaries significantly less than is possible.
I know, because I've been there. Combine a protestant work ethic with an early career in the arts, then a segue into NFP sector leadership and I think you get the picture. Plus if you add in the complexity of socialisation and gender around money, and the whole area of negotiating a raise becomes a murky minefield for women.
Perhaps you've –
Received an offer and then your mum or other female family member has cautioned you to "not rock the boat" in case the initial offer is withdrawn
Been on the receiving end of a rejection to your request for a raise, only to find out that your male colleague didn't even have to ask,
Found out that a male peer is being paid $200k+ more than you. 😡
Yes, it's tough being a woman with big goals and ambitions.
Some of our worry is well founded. Women run the risk of being labelled as "greedy" or "unlikable" especially in conservative environments, if they negotiate outside of the narrow acceptable stereotype for women. We women are intimately aware of these types of social sanctions as we've been bearing the brunt of them for years. And it's this constant wearing down that keeps our own money blocks and limiting beliefs in place far longer than is good for us.
I work with ambitious women. Every year, two or three of my clients more than double their salary and …. not all of them were earning peanuts to begin with.
So in the interests of giving everyone a chance to increase their salary significantly here are three tactics you can try that might help you do the same.
THREE TACTICS TO HELP YOU DOUBLE YOUR SALARY
1. Change Roles Three or Four Times in Quick Succession
Gosh! I can almost hear you know gasping with how unprofessional this sounds!
But for a moment, suspend your judgment and continue reading.
Did you know that men change roles more than women? And every time they change it's an opportunity to negotiate for more money.
But in the case of one particular client, these rapid fire role changes were the perfect opportunity for her to step up in both her responsibilities and her salary. In fact, there were four changes in six months.
a. An initial change in role and company
b. Then a promotion to her boss's role within a few months
c. Then the project was put on hold so she moved to another company and
d. Then again was promoted to her manager's role within a couple of months when her manager moved on.
Voilà! A perfect formula for doubling your salary in less than six months.
Take advantage of opportunities that come your way, stop trying to be perfect, and put your hand up bravely for bigger better opportunities even if you don't feel ready yet. You might be surprised at what's possible and your pay packet and superannuation will say thank you.
2. Apply for a Role That's Two or Three Levels Above Your Current Pay Grade
Just because a company has transparent salary banding and pay grades doesn't mean you can't apply for a role two or three levels above your current band especially if you have the experience and expertise and are able to communicate this clearly.
Women in particular often underestimate themselves and their capabilities, or perhaps we took a career break and came back in at a lower level. Women too are more conscientious, considerate and compliant, so more likely to hold ourselves back thinking we need to work our way back up again.
This is a tactic that I've seen work really well over and over again in both large and small organisations. And the trick is to truly focus on building a business case to showcase the value you can add, that might not be obvious from what you're doing in your current role.
It's nobody's business what you currently earn. That question that recruiters often ask "How much are you currently on?" quite simply perpetuates the gender salary gap. Reply and ask them what the role is paying instead.
Don't let what you currently earn get in the way of what you should or even could be earning. It's likely you're being underpaid as it is.
3. Conduct a Bench-marking Activity
Find out if you're being paid at the same level as your peers, or not. One smart woman I know did exactly this. She was starting in a new organisation. As the offer was being finalised she asked if the salary and role had been bench-marked. The HR team then went away and conducted a bench-marking activity, only to find out that the entire management level of this department was being underpaid compared to other departments.
Voilà again! This time, while it was only a 30% increase (not quite double), it was a sizeable jump in one negotiation. Asking for a role to be bench-marked is a great way to find out where your role sits on the scale within (and with out) your organisation and may just result in a sizeable adjustment in your favour.
PICK A NUMBER, DOUBLE IT AND ADD 20%
My advice to women is as follows – pick a number you'd like to earn, then double it and add 20%.
Gasp!!! I know, right? That's the point.
Because if you keep on doing what you've always done you'll keep on earning what you've always earned. The formula is designed to shake things up and challenge you to try things differently. Do the formula, then write and execute on a career and money strategy for the next three-five years in order to get there.
At my 2019 Women of Impact Retreat one very excited client simply couldn't wait to share her amazing news. We had met three years prior and I had challenged her with the formula. After initially hesitating and doubting, she became a true believer. She was delighted to announce that she had more than doubled her salary in three years and was keen to encourage all the attendees to try to do the same.
It took a vision, a step by step plan, plus a heap of courage as she executed the plan to make it happen, but she stuck to her guns and was never more proud of herself as when she landed that C-level role that came with more than double the salary than she was originally on.
FEEL THE FEAR AND DO IT ANYWAY
Doubling your salary can sound terrifying and can bring up all sorts of fears, worries and limiting beliefs. But it doesn't have to. Half the problem is that women don't talk about money anywhere near enough. We rarely know what our friends earn, let alone what our peers have managed to negotiate. Add into the mix that some companies ask you not to disclose what you're earning and once again it gets tough.
Let's normalise talking about money for women and more importantly let's normalise negotiating high salaries for women. Transparency is key.
Because when women win, everyone wins.
YOUR THOUGHTS? have you got a winning negotiation story you'd like to share? I'd love to hear from you.
#womenofimpact #LookOutCSuiteHereSheComes #ICreateSheroes
I recently shared a cheeky reel featuring Suneera Madhani. Asked "What do I bring to the table?", Suneera responds "I AM the table".
Many women get invited to speak at conferences and events for free.  If you're an executive woman and you are representing your organisation, that's understandable as your company is paying your salary. However for consultants, this is tough.