4 Big Mistakes Women Make When Tackling Big Career and Leadership Goals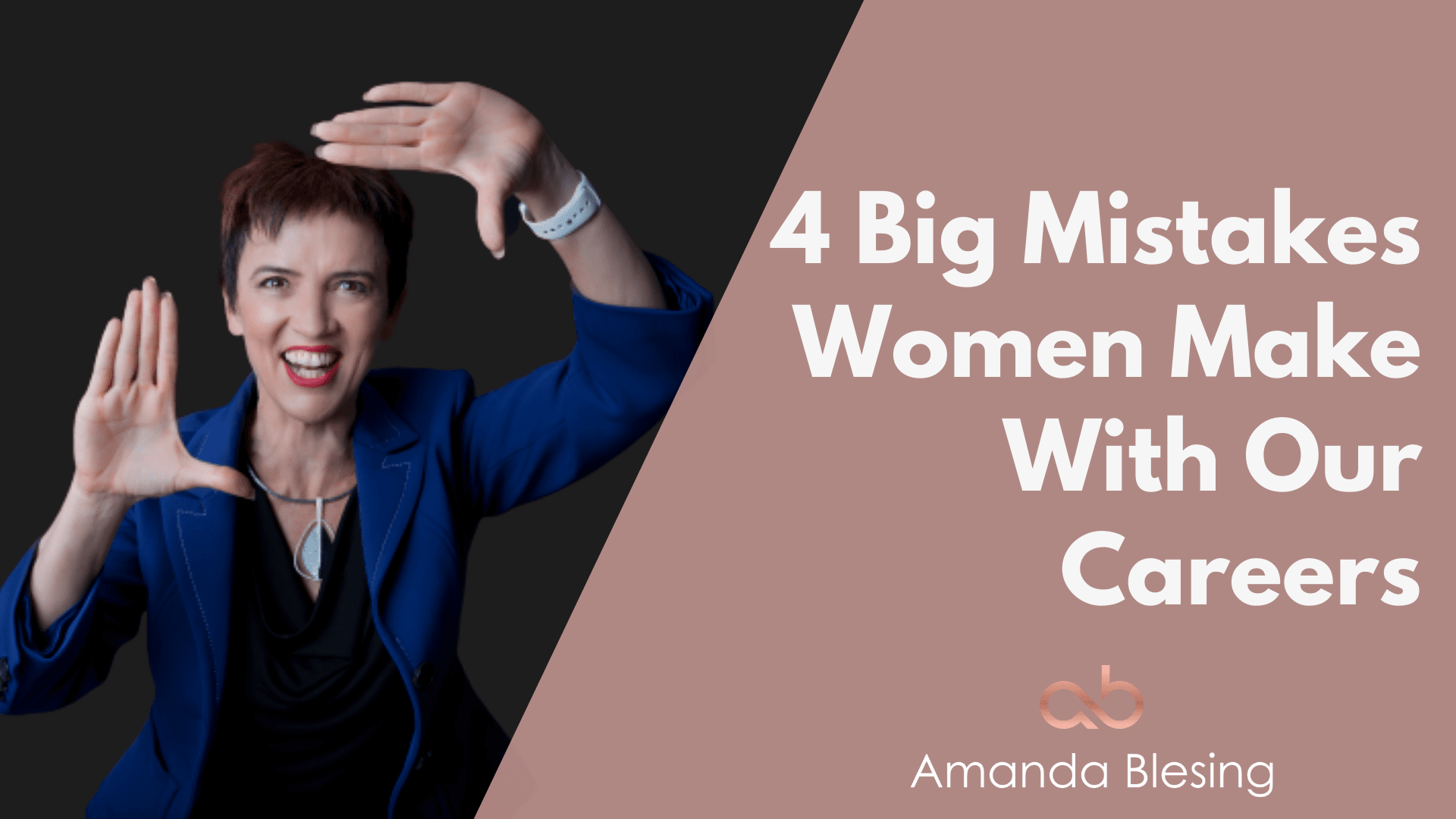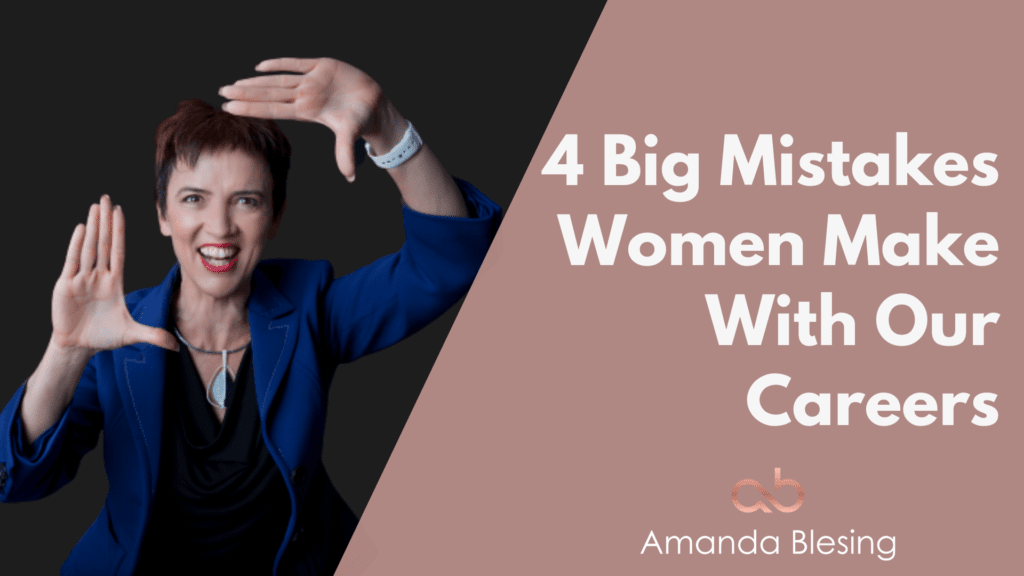 "I didn't know how to be ready until I got started" – Rachel Rodgers
As you move up in your career into more senior roles, it be comes increasingly important for you to learn to play to your edge. You'll need to develop an ability to handle complexity and uncertainty, to operate outside of your comfort zone, plus you'll need to develop an appetite for taking calculated risks both within your role and within your career.

Over the years there is one thing I've learned about women – we've been socialised to play it safe – to keep safe, to not rock the boat and to do our roles well, rigorously, thoroughly properly and appropriately. This makes us hesitate. Hesitating in and of itself is not necessarily wrong, but when it turns into waiting then it is – especially if others grab your spot while you wait. So here are four big mistakes that I see women make over and over again that will undermine your ability to play to your edge.

1. WAITING TO BE NOTICED
In an attention poor world, with media headlines guaranteed to suck you dry and undermine your focus, and in a world that puts extroverts on a pedestal, waiting to be noticed is like waiting for the ocean to boil.

Instead, you need to create the notice yourself – the people getting all the glory are likely creating it for themselves.

Gaining attention doesn't have to be in a flashy, OTT, braggy way that makes you want to sick up a little bit in your mouth 🤮 That rarely works for women long term anyway as it comes with a side of backlash. Women tell me they feel "overexposed" when they have created too much attention for themselves, with the pendulum swinging back the other way.

Instead, focus on building your brand on substance, by sharing your results, track record, your unique insights and staying in service to others i.e. "I can help more people when others know about my expertise" or "I can have more impact in a role with a seat at the table". Remember, it's not what you know, it's not even who you know. It's who knows what you know and how it adds value.

2. WAITING OUR TURN
Yep, the polite gene got us again! We got the wrong memo that told us that waiting our turn is a virtue that will be rewarded. Maybe it was when we were kids in the playground – or maybe it wasn't! I was always super envious of the girls who didn't care so much about what other people thought and who got onto the swings early at lunchtime and were able to swing longer and higher because they didn't wait.

When it comes to your career, it serves no-one, least of all yourself by politely waiting your turn. Companies say they reward merit, but if you're the talent biding your time because you were the last hire, then the company is missing out on your unique abilities to do more and create more impact. Instead, talk to your boss about how you can move forward and potentially upward, even if you were the last hire. Waiting your turn for a promotion can take forever and you may end up being gazumped in the end anyway as you stay in place past your own best by date.

3. WAITING FOR CONDITIONS TO BE RIGHT
When it's about getting out of your comfort zone, the conditions rarely feel right. Life drama will frequently crop up at the most inconvenient times. There is never a good time to have a challenging conversation, so have it anyway. And while you are dithering around waiting for the conditions to be right you run the risk of someone taking advantage of the opportunity that was meant to come your way. Trust me I know. As they say in the entrepreneurial world – "launch ugly". Let go of perfect, proper and waiting for the right time – and simply get on with it as you can course correct as you go. This isn't an optional extra, it's a must.

4. WAITING TO FEEL READY
Fempreneur Rachel Rodgers says "I didn't know how to be ready until I got started". And she is sooooo right. How many times have you started writing a report that you were procrastinating on, and as you got started you realised you knew more than you thought you knew?
Instead, attend the ELT meeting when you are invited and know that you'll end up growing into being able to contribute more fully in time.
Put your hand up before you feel ready for that plum assignment because in the process of preparing to tackle it you'll learn what to do next.
Start applying for your big, dream role with a big, juicy salary before you feel ready, because in the practice of applying you'll get better at landing a great role. It's a bigger risk to wait until you do feel ready and have no practice, only to blow it with a dud interview performance!
You need to build up your muscle for tackling big career and leadership goals before you feel ready. That is the journey and that is where the reward is. It's also a leadership requirement that you take calculated risks so get practiced at it while you're in calmer waters. Remember, in order to be successful at it in the future, you need to start now.

One final thought – when it comes to career and leadership goals, no, is not forever, but instead gives you more information to work with. You can improve, you can refine and you can find better evidence to build a better business case, or you can make a different decision and go elsewhere. But waiting for too long, undermines your confidence, your self esteem and your earning potential. Stop waiting and instead, start playing to your edge.
YOUR THOUGHTS? I've written about why women wait before but it's a topic that never seems to go away. Whether you're a serial waiter, or you've solved the waiting dilemma, I'd love to hear from you. Drop me a note and let me know what resonates.
#womenofimpact #LookOutCSuiteHereSheComes #ICreateSheroes
I recently shared a cheeky reel featuring Suneera Madhani. Asked "What do I bring to the table?", Suneera responds "I AM the table".
Many women get invited to speak at conferences and events for free.  If you're an executive woman and you are representing your organisation, that's understandable as your company is paying your salary. However for consultants, this is tough.