4 lessons executive women can learn from Donald Trump | Amanda Blesing
Never in a million years did I ever imagine I'd write any recommendations for women based on former US President Donald Trump. However, while many of his behaviours appeared outlandish to the outside world, there are lessons to be learned everywhere when you know where to look.
Of course there were a bunch of lessons of what NOT to do. But I was looking for the positive spin. So here are four lessons around career and leadership to help executive women to lead and succeed in the C-suite.
The value of delusional self-belief
When too much emotional intelligence can get in your way
Learn to take up more space
Ensure your voice is heard at the highest levels

#1. The value of delusional self-belief: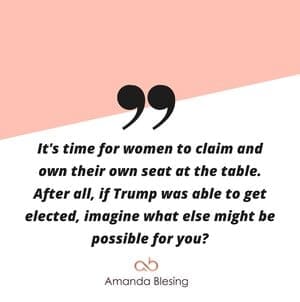 Trump's self-belief was so extreme that many would say that it was delusional. While we might chuckle now what we learned is that delusional self-belief (DSB) can actually carry you a long way. In this case, all the way to the top of the White House in the USA! Women and girls have it ingrained into them from a really young age to show humility and to be modest. When we do display any sort of self-belief that's considered over the top, we worry we'll be labelled as too big for our boots. One of the benefits of having DSB is that you don't care what others think so you just get on with it.
DSB is so powerful, if I could bottle this, I would. Oh that's right I did!!!!
I was inspired so much by Trump's obvious DSB that in 2019 I produced a perfume for clients that was designed to inspire confidence and had a secret ingredient – delusional self-belief. The working name for the perfume? De-lusion. (Although the marketers wouldn't let me call it that 🤣) The final product? Invincible – the fragrance: designed to inspire confidence. Only available for clients.
So next time you're heading into a job interview or challenging meeting, try spritzing a little DSB into the mix and see how far it carries you.
#2 Too much 'emotional intelligence' can get in your way:
No-one would ever accuse Trump of displaying emotional intelligence. In fact his complete lack of emotional intelligence was a bit of a trade mark and demonstrated that if all you want is the top job with no care for collateral damage, too much emotional intelligence would get in the way. The lesson for women in business who tend towards higher emotional intelligence, but err on the side of being sensitive to what others are thinking, is that sometimes you need to get on and do the big things you need to do, despite what you imagine others are thinking or feeling. One of the traits of true emotional intelligence is that you are also able to manage your own emotions in the face of others strong emotions. So while being sensitive is one thing, balancing that out with managing your own emotions is far better.
#3. Take up more space:
have you ever seen video footage of larger than life Trump entering a room, seating himself at the table and then "man-spreading" even further? Legs akimbo, sweeping his arms across the desk in front of him to clear the table and then oozing his mighty presence as he stared down opponents? Too often women are socialised to take up less space – to be tiny, trim and terrific, when taking up more space and owning the room might help us more. I recommend working on your executive presence so you know how to take up space when the time is right and how to command attention when you need it. In a nutshell, own your own awesome. Learn to claim your space and own your own seat at the table simply by being in the room.
#4 Ensure your voice is heard:
Trump had a reputation for interrupting those he disagreed with. In the 2016 debate between himself and Hilary Clinton, Trump interrupted Clinton 51 times whereas she only interrupted him 17 times and this was a common pattern. While it was appalling to watch and certainly exemplified his disdain for women, research tells us that men in general interrupt women 33% more than they interrupt other men. But the problem is more than merely interrupting. It's about believing that you have the right to speak up and be heard. Once again, you not only need to own your own seat but also take ownership your own airtime as well.
Trump's tactic was usually to fill the void with words (any words even if they weren't sensible) to take up airtime and prevent others from interrupting him. Whereas many women, if they don't think they've got anything sensible to add, won't speak up at all, when saying something, anything, even it if it's just reiterating what someone else said, might be more effective.
Stop waiting for the perfect thing to say to come to mind. Remember saying something might be better than saying nothing when ensuring your voice is heard at the highest levels.
So there you have it! My crazy, yet strangely helpful reflections to highlight some tactics you might try in your leadership journey – ensuring you are seen, heard and valued at the highest levels. After all, if it worked for Trump, what might be possible for you?
YOUR THOUGHTS?
What other career or leadership lessons might we learn to do from Mr Trump?
In 2022 we launched August Money Month inside The She-Suite® Club and it was such a hit (and got such great results) that we are doing it again.