5 big no nos of salary negotiation for executive women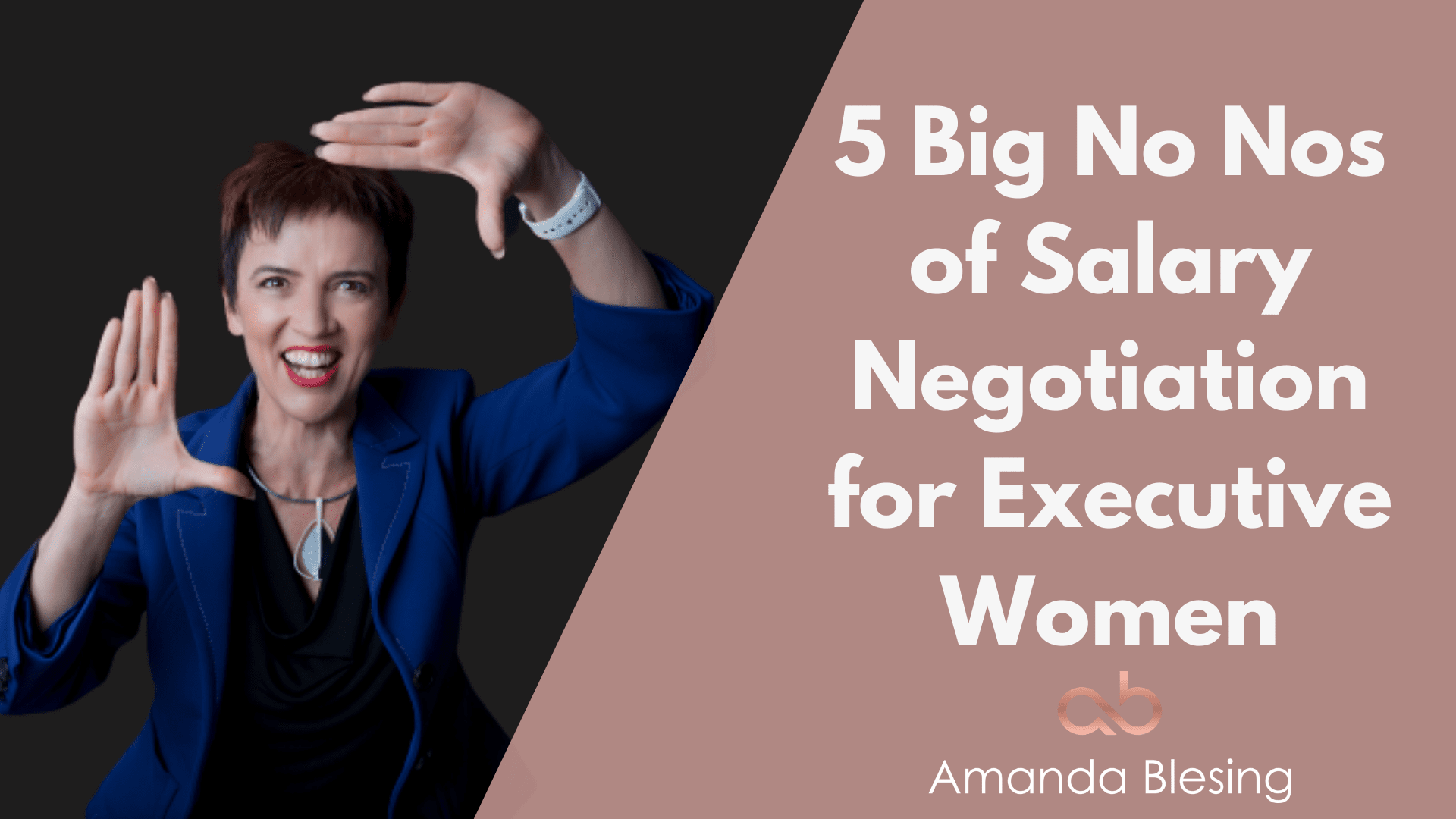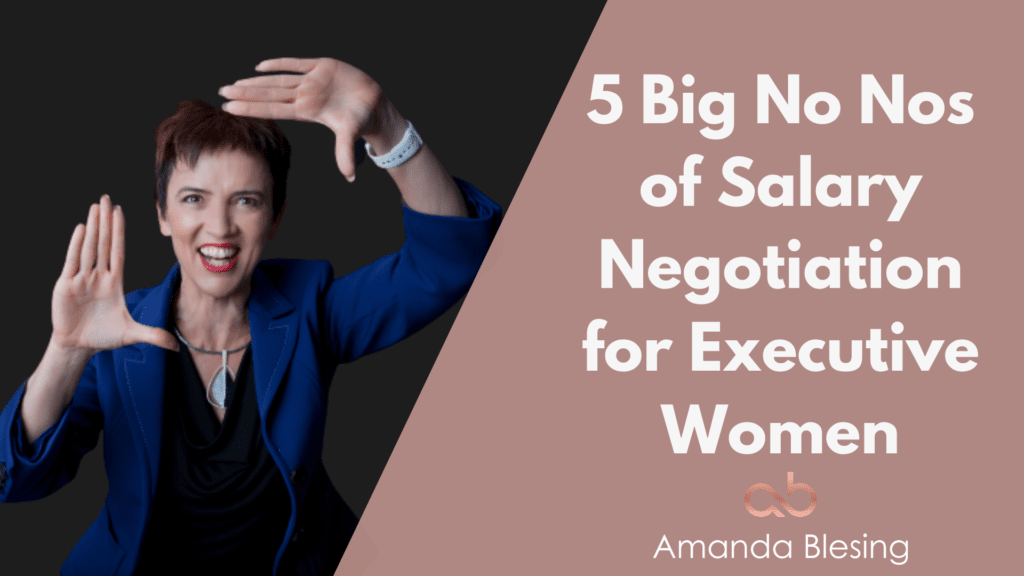 10+ years of the last two decades of my career have been spent working alongside dispute resolution experts. As a result I became fascinated about the topic – in particular, gender differences when it comes to negotiation and specifically self-negotiation.
If you're curious about why I got into helping women negotiate their salary better, here's a short video.
If you want to nip some potential negotiation errors in the bud, read on!
---

Negotiation is different for women and men based on our socialisation and the assumptions of those around us. What works for men, may not work for women and vice versa. Heaven forbid women accidentally get it wrong and negotiate like a man, without understanding the potential consequences, as the potential for backlash or missing out, is real!
There is a huge parallel with self-negotiation and self-promotion and the common theme is self-advocacy. Women who advocate for themselves are often perceived as being pushy, bossy or greedy even if they're not behaving any differently to a man negotiating for himself. For some reason, this breaches the narrow stereotyped norm available for women. Worse, when we breach this narrow stereotype, there is a potential social penalty (loss in likability) which means we are more likely to hesitate, not negotiate at all or not self-negotiate as hard or as well as we might.
I was recently interviewed by a journalist from Boss Magazine in the Australian Financial Review about how women can better negotiate their salaries. You can read the article here.
During the course of the interview the journalist asked me if there were any the mistakes women make when it comes to self-negotiation. Unfortunately there are quite a few mistakes we commonly make right from the get go. So to avoid you making these rookie errors and to help you get some real skin in the game, here are my top 5 negotiation no nos to avoid.
1. NOT NEGOTIATING ON INITIAL OFFER
Did you know that a whopping 60% of women don't negotiate on initial offer? Studies tell us that we're worried about being judged negatively or that we'll lose in the likability stakes. Deep down we may be anxious about the very real potential for backlash or that if we rock the boat, we'll miss out on the role entirely.
Yes, that might happen, particularly in more conservative environments, but with the right language and tactics you can negotiate without tripping up, failing, or missing out.
At a certain level in your career, it is expected that you will negotiate. Given that negotiation is likely a strong part of your new role, you're letting down your new organisation, your new boss and yourself by not negotiating. What hiring managers need to remember is that you successfully negotiating from the get-go gives you a huge confidence boost and is likely to make you want to stick with your new employer even more. Even if you don't win first time around, negotiate the option to discuss it again in 3-6 months' time and use this first time to plant the seed of your true value.
2. BEING TOO TRANSPARENT ON APPLICATION
DO. NOT. EVER…… put your anticipated salary in your cover letter unless the job advert specifically asks for it and even then, only do so after doing research to find out what they typically offer so you can anchor appropriately. In fact, I cringe when I think of how I used to do this back in the day as I thought I was being helpful in managing expectations of hiring managers.
Rule of thumb is she who breaks first loses. You might think it's helpful to be upfront, but you could actually miss out on the role because of your too low salary expectations! (Yes I've heard of more than one instance where this happened). It also pigeonholes you way too early in the process with no wiggle room and no power on the negotiation table at all.
Instead, get to know the role, the manager and organisation first, to see if the fit is right, and then negotiate once they've made you an offer.
3. RESPONDING TO QUESTIONS YOU'D RATHER NOT ANSWER
The following question is one that trips many up and in my opinion is one of the biggest contributors to perpetuating the gender salary gap, after bias and systemic failure.
It's a lazy question, highly unprofessional and should be banned. Unfortunately, I recently heard of an organisation who asks you to submit pay slips from previous employers to prove what you were on previously. (Gobsmacked!)
But it's impossible to eliminate so in a negotiation you need to be armed with great responses so you don't feel compelled to reply and pigeon hole yourself into an expectation that's too high or too low.
What's the question?
"What are you currently on?"
I bet you cringe when you hear it and research tells us that women tend towards being more conscientious, compliant and truthful especially when it comes to talking about ourselves, so this is harder for us to deflect.
Instead, think of it this way.
From the hiring managers perspective in a negotiation, they are trying to work out what is the least amount of money you are willing to accept.
From your perspective, you are trying to work out what's the most amount of money you can get.
With your more than truthful response to that question you immediately remove some of your bargaining power, particularly if you're currently underpaid.
Instead, respond to this question with a question, such as "What does the role pay?", "What was the role advertised at?" or even "What salary range did you have in mind for the successful incumbent?"
Once again, remember she who breaks first loses. Instead, see if you can get them to give you an indication of the salary bracket first so you can either tell them they're dreaming, or increase your own expectations as a result of their opening gambit. Get them to lay their cards on the table first. Put that poker face on and bounce the ball back to their court.
4. HEDGING YOUR BETS WITH TOO BROAD A RANGE
After the interviewer indicates the salary range, the ball is then in your court and you'll need to respond with your expectations. Don't make the mistake of suggesting too broad a range e.g. $120K- $150K.
You're imagining that you'd like the top of the range, but don't want to out price yourself.
Whereas a hiring manager who is being rewarded for keeping costs low only hears the bottom of the range so will want to start negotiations there.
If you must provide a range because you don't want to scare people off suggest a much narrower range such as $145K – $150K, which will provide a far stronger bargaining position for you moving forward.
5. NO MEANS NO FOR NOW, NOT NO FOREVER
When a woman misses out in an initial salary negotiation she is more likely to think that this is "no forever" (or at least until next year when performance appraisals and negotiations are formally introduced). Negotiation experts from around the globe tell me that typically if a man misses out in an initial negotiation he is more likely to hear that this is "no for right now, but you are welcome to talk money again shortly."
If you come off second best in initial salary negotiations, replace "no forever" thinking with "no for not right now". Then do your homework and be prepared to come back again to talk salary in a few months' time especially as you've now had time to demonstrate your value and have some real results and track record as ammunition behind you.
FINAL THOUGHTS
One of my mentors has a saying – desperation has a smell – and she is right. When you're desperate for a role, desperate to get out of a bad situation, or trying too hard in the negotiation, the other side can sense it and this can mean you lose your negotiation power.
Instead take a deep breath, do your preparation and replace that desperate energy with your secret negotiation weapon – the three feminine leadership and negotiation superpowers:
Active listening
Clear communication and
Emotional intelligence
Research has demonstrated that when women bring these three attributes to the negotiation table, we outperform men.
YOUR THOUGHTS? Drop me a note with your negotiation stories – and let me know how you are going to use this information.
FREE DOWNLOAD
15 Negotiation Tips for Executive Women – an excerpt from my 1st book Step Up, Speak Out, Take Charge – a woman's guide to getting ahead in your career – Chapter 9.
And good luck!
#womenofimpact #negotiate #ICreateSheroes
In a world where women account for less than a third of key management positions, female leaders need to take control of own careers and success more than ever.