5 Tactics To Bring Out Your More Authentic Leadership Brand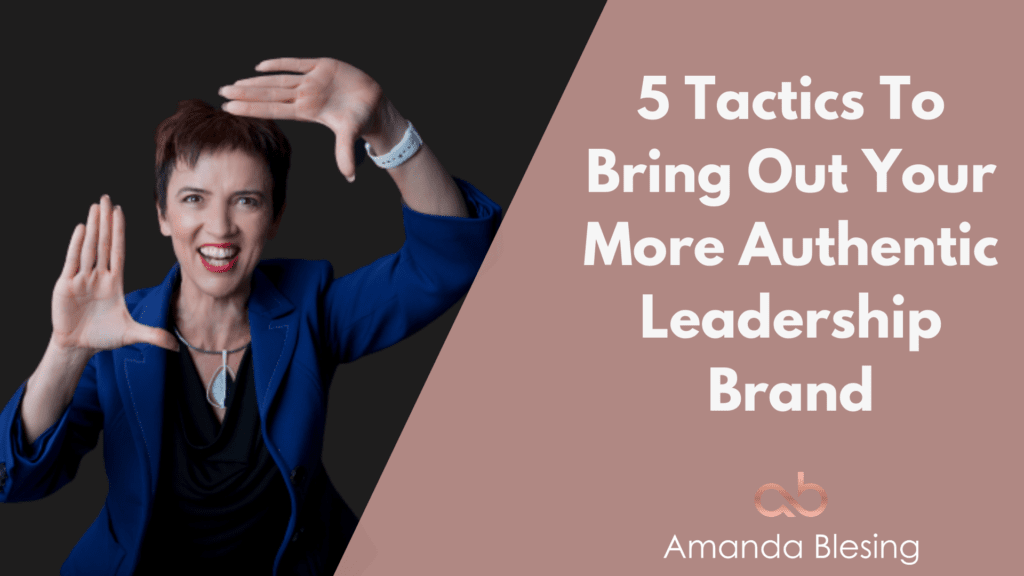 It's exhausting when you feel as though you can't bring your whole self to work.
Trust me, I know!
In my own quest to lead and succeed I developed a very proper persona to disguise and camouflage perceived flaws and weaknesses. And I'm not the only one. According to Deloitte's inclusion survey, 61% of workers hide or cover aspects of their identity to "fit in" at work.
You may think that this helps you play the executive game but disguising your true self will only undermine your leadership journey.
When you don't bring your more authentic self to work
People are slower to warm to you
You run the risk of coming across as secretive or insincere
Sponsors and champions are more hesitant to back you
You'll tend towards downplaying your achievements and second guessing yourself
And imposter syndrome is lurking just around the corner as you are often worried about being caught out
The truth is your authentic self is the strongest asset of your leadership brand.
So what can you do? Here are 5 tactics to help uncover your more authentic leadership brand.
1. Audit, edit, and add to your brand vocabulary
Conduct an executive brand audit with people who are invested in your success. Ask 3 people for 5 words that describe you and your leadership brand. Compare these words with how you would normally describe yourself and see which words you'd like to adopt into your own vocabulary to describe yourself with.
2. Embody the brand you want to be
Reflect on what you want your brand to be in the future. Ask yourself:
How do you want to be remembered?
How are you being when you are at your most powerful?
What do you want your legacy to be?
What words would you use to describe the super confident, super successful version of yourself?
Then use these aspirational words as your inspiration.
3. If you've got it, flaunt it
Women in particular have a habit of downplaying their expertise. "Oh it was nothing, I was just doing my job, in fact the whole team was involved…. and did you notice the project nearly fell over last month? But we got there in the end."
No more downplaying your input, expertise or achievements. Own your own awesome instead.
4. Reframe flaws to flawsomes!
While you're at it, no more apologising for perceived flaws or failings. Reframe them to flawsomes instead. Just like Sheryl Sandberg reframed bossy to leadership potential, you can do it too. Every strength has a downside. Every weakness has a upside. You just have to see both sides of the coin. Instead of hiding your loud laugh, work out how to turn it into an asset!
5. Put your blinkers on
Stop comparing yourself to others. Your unique value proposition is just that – unique. When you try to come across like someone else, you'll undermine your pathway to authenticity and run the risk of feeling like the great pretender. Find your own voice, your own style, your own brand, and you'll carve your own path more successfully.
"Authenticity is a collection of choices that we have to make every day. It's about the choice to show up and be real. The choice to be honest. The choice to let our true selves be seen."

– Brene Brown
With visibility and authenticity comes vulnerability
With visibility comes vulnerability and that's amplified when we put our more authentic selves out there. However the payoff is that when we're more authentic, we are more powerful and have far more impact.
Doing this work to define your authentic leadership brand not only helps you feel more confident but come across more congruently as well. Remember, the 'gold standard' of executive branded is proactive, intentional, future focused and strategic. When you add authenticity to the mix, it makes your value proposition hard to ignore.
#womenofimpact #LookOutCSuiteHereSheComes #ICreateSheroes
In a world where women account for less than a third of key management positions, female leaders need to take control of own careers and success more than ever.