I Was Terrified of Expressing My Opinion On LinkedIn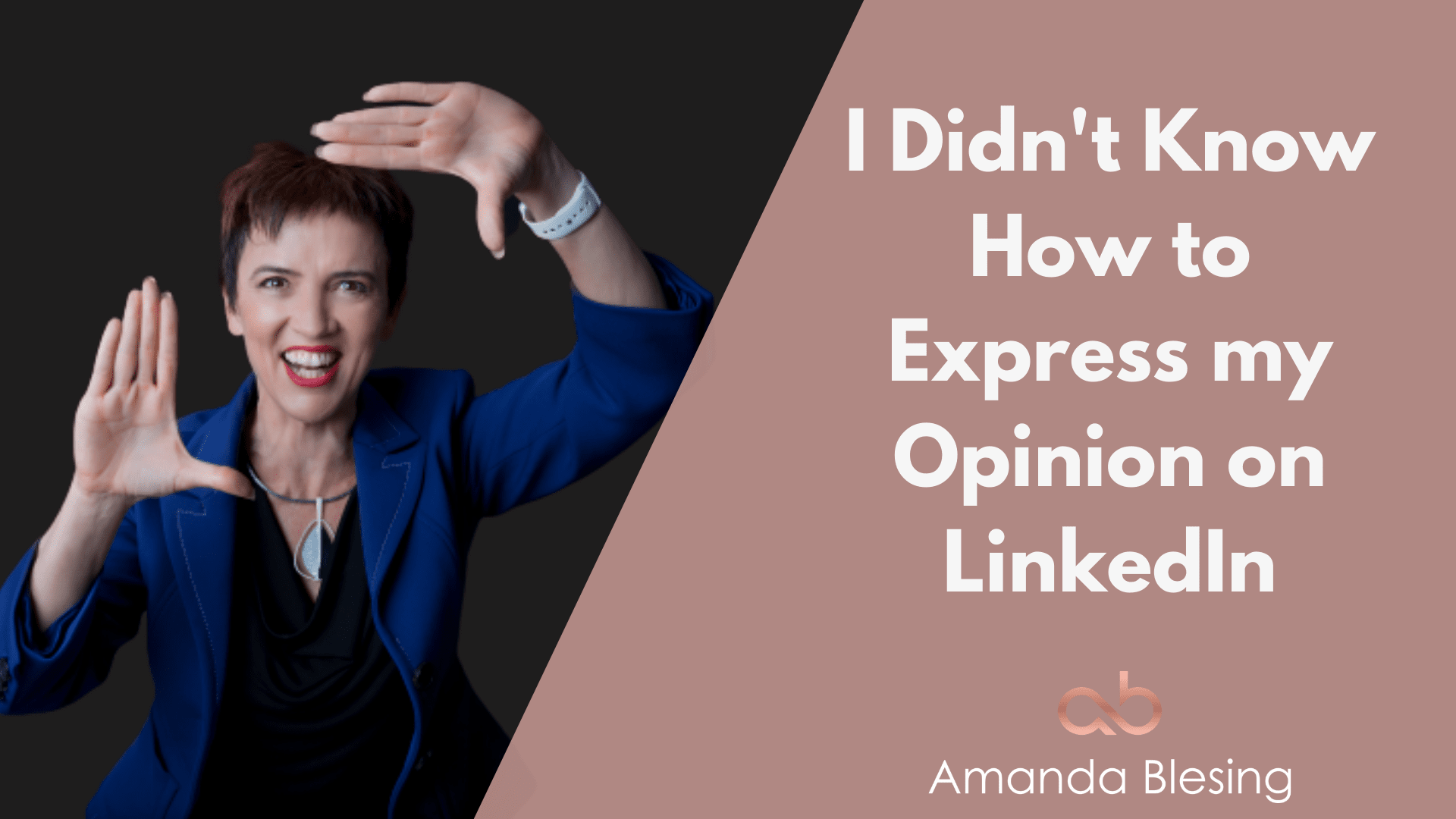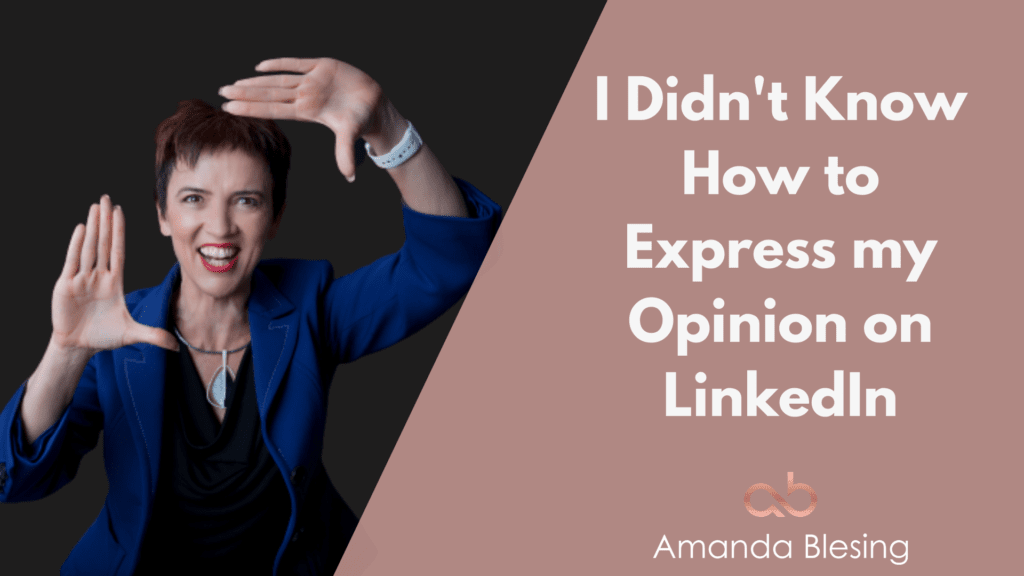 I never knew how to express my opinion on LinkedIn.
I was scared.
"What if I get it wrong?"
"What if people don't agree with me?"
"What if I end up with trolls?"
When I found my sense of purpose something surprising happened. The more of an authentic position I took, the more my content and thought leadership resonated, the more my clients and readers messaged me and …. the easier it all became.
I realised that you don't need to be right, to be the funniest or the best to express your opinion.
But you do need to be able to articulate your position, not simply regurgitate the opinion of others.
Since I adopted this mindset I've been posting and commenting like a demon and haven't looked back.
And I teach my executive clients to do the same.
FOUR REASONS WHY I ❤️ LINKEDIN COMMENTING
It leads to future opportunities: I truly love it when a client sends me a message that their branded and thoughtful comment has led to an invitation or an opportunity that will help further their career and this happens far more frequently than you might imagine.
It builds your confidence: I love it just as much when a client who was previously nervous about expressing their opinion online tells me that they are having so much fun commenting that it's boosted their confidence and that their boss has noticed that they are now speaking up more in meetings at work 💪🏻
Less time consuming and more targeted than posting: Commenting is far less time consuming than publishing, plus you can be really targeted about the types of audiences who get to see your comments when you do it right. No more "spray and pray" as you send a post out into the ether hoping that it does okay. When comment with a strategy you can be sure that your target audience reads and engages with your comments.
Business does better: In fact, I often joke that my own business does far better whenever I stop publishing for a while and focus purely on commenting! And that's not a joke.
---
LAUNCHING SEVEN WAYS TO COMMENT YOUR WAY TO THE TOP
From Cheer Leader to Branded Thought Leader – helping you stand out with branding and confidence
This week I'm launching my 2nd online course – Seven Ways to Comment Your Way to the Top – to teach executive women how to build their brand via LinkedIn commenting. It compliments and dovetails perfectly with my 1st course Seven Ways to Post Your Way to the Top. Thanks to the 50+ women who have signed up for the first course. A.May.Zing!
Seven Ways to Comment Your Way to the Top can be done as a stand alone module, or you can purchase both courses together as a bundle.
To sweeten the pot I've organized a $99 discount for the Commenting Course – available until 30 November only.
THREE FREQUENTLY ASKED QUESTIONS ABOUT THE COMMENTING COURSE
1. Who will get the most out of doing Seven Ways to Comment Your Way to the Top?
Ideal if you struggle to voice your opinion on LinkedIn yet you still want the benefits that building your online brand can bring to your career, without spending hours on the platform. It will help you create a reservoir of time efficient and super effective statements that will give you heaps of confidence as well as boost your brand. I also show you tactics that help you position yourself with credibility and authority every time. Beat the bots with powerful positioning. I can't wait to see you start using these!
2. I already comment on LinkedIn, will I get anything new?
If your commenting is already attracting you the right sort of attention and opportunities, from the right people, in the right organisations then you might not want to bother – do the posting course instead. But if you're spending too much time on LinkedIn trying to build a better on ramp to something more substantive, then this course is ideal.
In my experience many people miss so much opportunity as they swing between two extremes –
Providing lightweight cheerleader comments such as "great article" and "good job", or
Commenting really substantially and then looking up after 15-20 mins wondering where the time went, and worse? No-one significant really acknowledges it or even sees it.
As I mentioned, the course will keep you super efficient and effective as well as confident that you are building your credibility and authority. Using the tactics I teach will ensure you and your brand will benefit in the long run.
"I was chatting with a colleague and he specifically mentioned my comments on other's posts. Thank you all for creating such good content that makes commenting so easy!"
~ Ursula
3. HOW LONG WILL THE DISCOUNTED OFFER BE AVAILABLE?
There is an intro special offer for the commenting course which is too good to miss out on. It's available until 30 November only and after that we'll go back to full pricing. There is also a bundled offering discount – so if you do both courses you get a discount as well. Why don't you get the courses now and program yourself to do them over the Xmas holidays? That way you can hit the decks running, feeling really confident about yourself and your online brand in 2022.
THE BOTTOM LINE
Commenting, when done well and is aligned with your career strategy, is an incredibly time effective and powerful way to build your positioning and branding towards your pathway to the top. You might find commenting so beneficial, that you may even choose to never post or publish on LinkedIn ever again!
PURCHASE
Or purchase the two course bundle option.
Halve your effort, double your impact.
#womenofimpact #LinkedInImpact #ICreateSheroes
In a world where women account for less than a third of key management positions, female leaders need to take control of own careers and success more than ever.