💪🏻😎 Super chuffed to see my name in print in the latest Marie Claire magazine! The thinking woman's magazine for fashion and features including lifestyle and careers.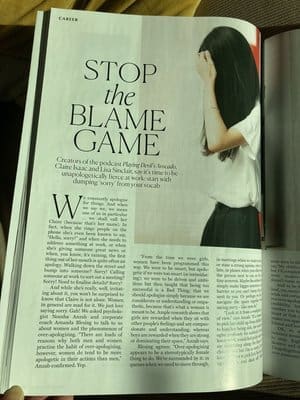 The article in question is about how women say sorry too much –
* Sorry for running late
* Sorry for having to move past you in this room
* Sorry to interrupt you with my strong opinion …..
* Sorry for you bumping my arm off the arm rest on the flight (!!!)

It's a habit – socially ingrained into us from a young age and around us all the time.

Of course when you are the one apologising all the time you lose your power.

And the apology itself diminishes in value as well.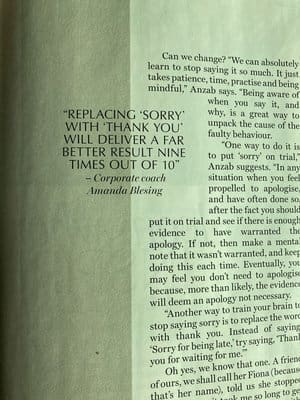 Instead of sorry, try thank you.
* Thanks for your patience
* Thanks for moving out of the way
* Thanks for your input but have you thought of it this way?
* Thank you for being accommodating

Try it!

Then let me know how you go.

Shout out to Claire Isaac and Lisa Sinclair, who wrote about it in their book "How not to live your best life – your guide to getting older ….. but not necessarily wiser"

Then save your sorries for when you mean it most!

YOUR TURN! What other phrases can you come up with to use instead of sorry?
"Speak your mind, even if your voice shakes" ~ Maggie Kuhn Something had to give. Like many women, I've got a lot on my plate at the moment. In addition to my regular client load, ...
Put your hand up if you're an executive woman who's ever felt like they need to go it alone....