PMI Adelaide – 4 Great Reasons to Network Smarter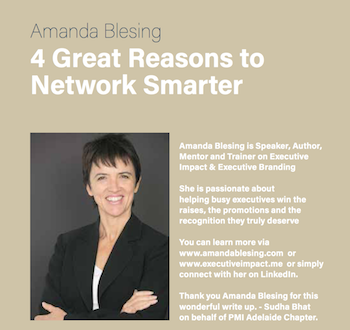 Thanks to Sudha Bhat for inviting me to write for the PMInsights Magazine for the Adelaide Chapter of PMI.

PMINSIGHTS JUNE 2018

4 GREAT REASONS TO NETWORK SMARTER
There is a famous saying – your network is your net worth. Yet most of us conscientiously put our head down and backside up and get on with the work. Why is this? And networking for networking sake – is it worth it?
In a world where women account for less than a third of key management positions, female leaders need to take control of own careers and success more than ever.