Pushing the boundaries on gender parity is good for business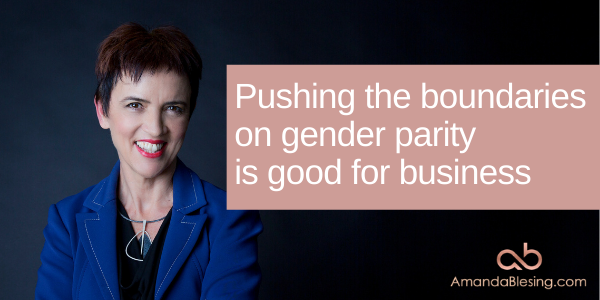 My second article on CEO World Magazine.
WE'VE GOT ENOUGH WOMEN, OR HAVE WE?
Happy belated International Women's Day! And "girl" have I got something to share with you.

I recently heard of a male CEO approaching his female Director of Communications about their March publication to members. He wanted her to move the 'International Women's Day' feature to the back of the magazine and profile some men in the front.

Tone-deaf at best. Bias or sour grapes at worst.

Fortunately for the business, his switched-on communications director was able to remind him of the unfortunate optics of such a move in today's political climate.

Other concerning signs that I have heard include:
Female L& D manager telling me that funding for all women and leadership development programs has stopped and the company has other training priorities that benefit everyone, not just women
Female HR practitioner telling me the men in their organisations are "jealous" of all the attention given to women and if they (male leaders) hear of another women's program they'll be very disappointed – so "what can I offer that will be non-gendered and keep the men happy?"
Male manager insisting that the table at the IWD event also include men (ergo uninvite some of the women so men can go). And while I think that we women do tend to preach to the converted at women's only events and that men should be there, it shouldn't be at the expense of women attending. It's not a zero sum game.
This reminded me of research I sighted a few years ago that found that when there had been an increase in women in an industry sector where the numbers of women were previously low, the incumbent men felt like they were being overtaken and missing out, despite the gender balance in the workplace falling far below parity.

I feel like we're heading back into that dangerous territory again with the pressure caused by economic downturn and uncertainty in the last year.

READ MORE ON CEOWORLD MAGAZINE
Yes, I'm now a regular contributor on CEOWORLD Magazine – changing the world one article at a time!
I recently shared a cheeky reel featuring Suneera Madhani. Asked "What do I bring to the table?", Suneera responds "I AM the table".
Many women get invited to speak at conferences and events for free.  If you're an executive woman and you are representing your organisation, that's understandable as your company is paying your salary. However for consultants, this is tough.