Seven Steps to Become the Standout CEO for Executive Women
Because when women win, we all win!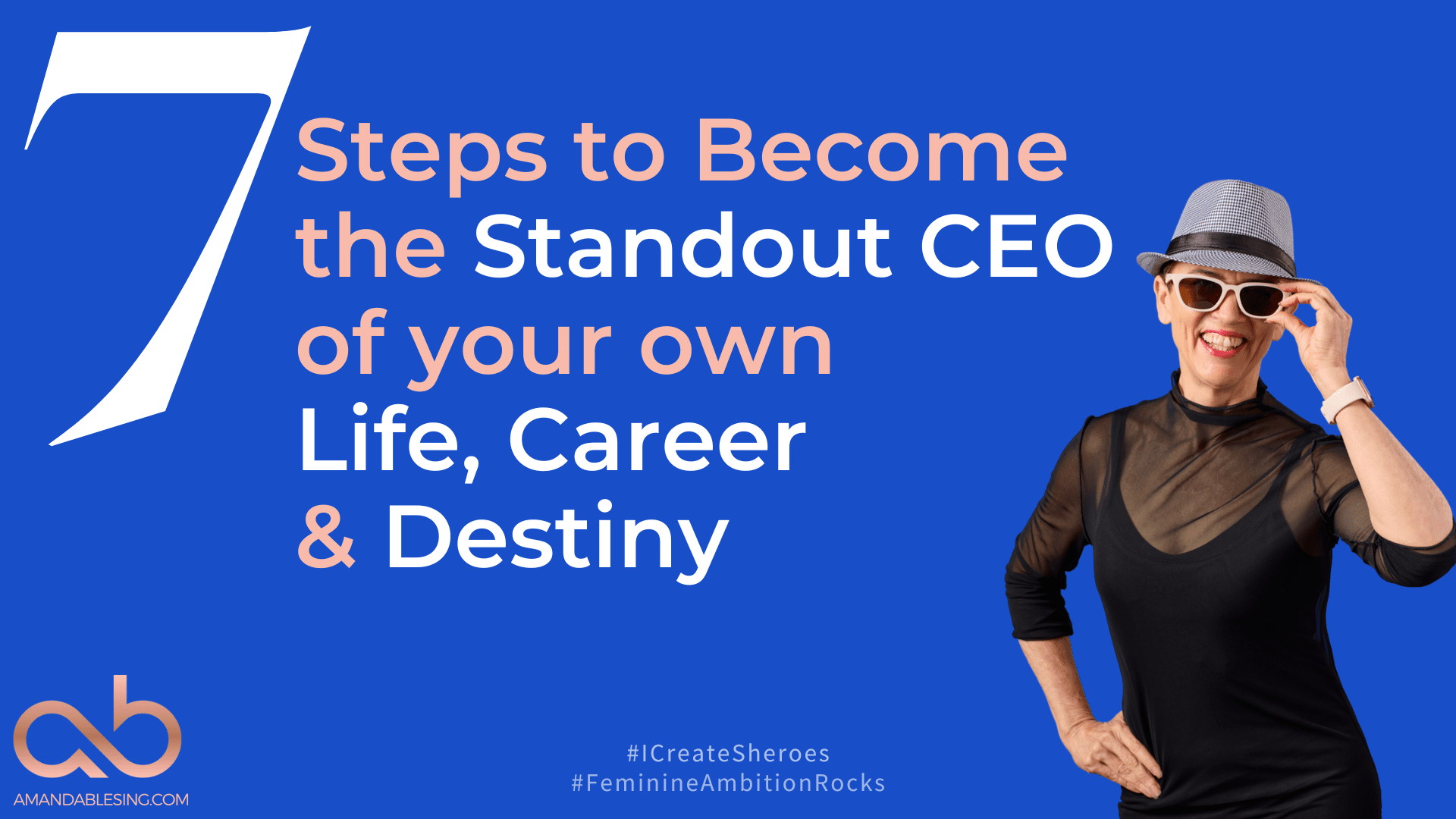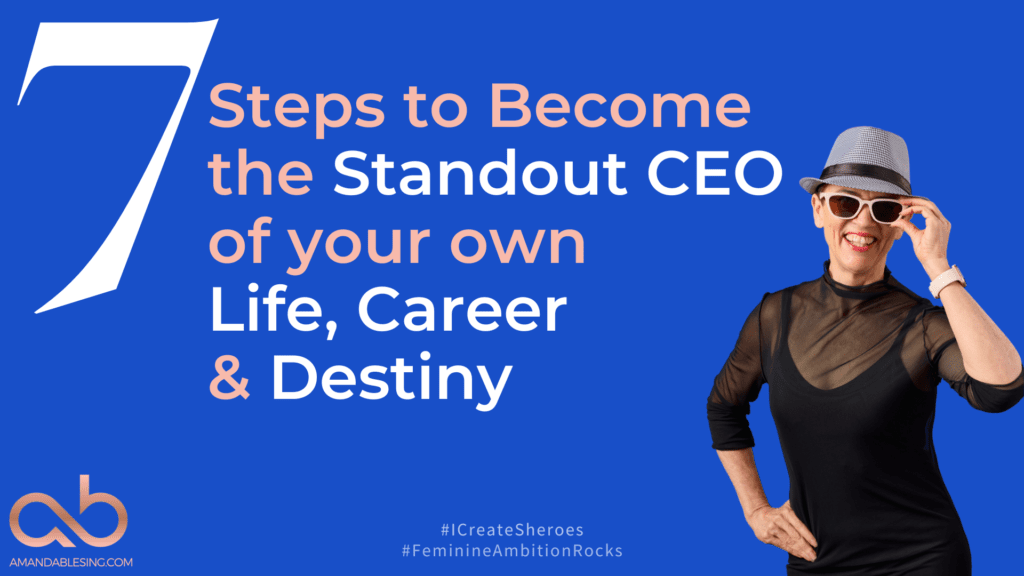 It's tough being an executive woman with your eyes on the prize. With lack of a clear roadmap, so few female role models and resistance at every turn, it's no wonder some women wonder why they even bother.

In Australia, WGEA reports that the number of female CEOs is even lower than the global average, with less than 1 in 5 (19.4%) of C-suite leaders being women – or to put it another way – that's more than 80% of leadership roles are still held by me

Even worse, when women don't see or experience true progress, inclusion and recognition this can amplify our lower confidence, second guessing and underestimating ourselves.

This leaves us tired, frustrated and often too busy as we try anything and everything, yet nothing works.

We know deep down that we could be doing a whole lot better, delivering even bigger impact and being acknowledged as a serious C-suite contender – but we just can't seem to break through that last stage of the proverbial glass ceiling.

Over the past decade many of my amazing clients have already proven that it's possible. You will not only feel seen, heard and valued, but you'll be paid far more as well!
Want to double your salary?
Want to land your dream role and be told you were the standout candidate and that you can name your terms?
Want to lead and succeed with skill and finesse without exhausting yourself in the process?

Read on! Here are 7 steps to help you become the Standout CEO of your own life, career and destiny that will definitely put you back in the driver's seat of your career again.

1. DEFINE YOUR DESTINATION
The socialisation of women and girls has a lot to answer for, and one of the results is that women are less likely to have a career strategy, and even if we do have one we don't tell people about it. I call this the missing 33%. We're socialised to do work well, rigorously thoroughly and appropriately. Not realising we got the wrong memo until it's almost too late.

But if you don't know where you are going how will you know when you get there? Or even if you're on the right track?

It's time to do the work and map out your plan. Dare to dream. And if your plan doesn't scare you just a little, then you haven't pushed hard enough.

2. TAKE OWNERSHIP OF YOUR BACKSTORY & OWN YOUR OWN AWESOME
Embarrassed about my less than blue chip career history – I used to hide that I was a former dancer. Hiding parts of yourself is exhausting too and leaves room for imposter syndrome to creep in.

But something magic happens when you start to own your own awesome.

When you step into your authentic self more fully it enables you to be the best you can be and others connect with you more easily.

I bet too that there are leadership lessons embedded in your backstory if you're prepared to dig deep enough. I can't wait to hear yours!
3. ARTICULATE YOUR WHY
Digging deep into your why is a great way to keep your eyes on your prize. When the going gets tough or you lose sight of the pathway, having a clear why will more easily get you back on track.

From a gender perspective, research tells us that having a clear sense of purpose helps you to more easily depress the modesty norm. By clearly articulating and connecting with your why you'll find it far easier to get out of your own way.
4. SURROUND YOURSELF WITH BELIEVERS
As an executive woman, you've got enough self doubt and second guessing yourself. You don't need detractors and non believers raining on your parade any time you have a new idea.

Recent research tells us that the fun meme "behind every great woman is an amazing chat group" is pretty close to the truth! Many women absolutely thrive with the support and encouragement of other women often much more so, than with just the support of men. In fact a whopping 75% of women said they did better with the support of other women.

Find a tribe, on or offline, of those on a similar journey, and you won't look back.


5. PRIORITISE BOUNDARY SETTING & BATCHING
The burden of office housework sits firmly with women unfortunately – and yet doesn't translate into promotions or pay rises.

Recent research tells us that women receive 44% more requests than men to 'volunteer' for these non-promotable tasks and when women are asked, 76% of the time, we say yes!

Why? Because there is the potential for backlash for a woman who is seen as unhelpful and the social penalty has real consequences. It's a narrow socialised norm that's challenging to navigate.

So the best tools are boundary setting and batching – establish clear boundaries that you find easy to enforce, then work out ways of batching up your helping and service so it's less of a drain on your time and mojo. Then be sure to spend the time you have gain back on dial movers!
6. DAILY BELIEF & MINDSET WORK
Getting out of your own way is only possible with a daily mindset practice along with a regular check in on your own beliefs, biases and baggage. Plus there are so many messages from society that tell us it's not possible for women, it's hard to stay positive 100% of the time.

You shower daily, so why wouldn't you do the same with your mind?
"People often say that motivation doesn't last. Well, neither does bathing – that's why we recommend it daily." ~ Zig Ziglar
Just do it.
7.CREATE A ROADMAP OF DIAL MOVING ACTIVITIES – THEN EXECUTE
The beauty of a roadmap is that you get a sense of progress, which is motivating all on its own. A roadmap full of dial movers is going to truly keep you on track.

When you've got your eyes on the prize be sure to ditch, delegate or defer the following
Busy work
Work that keeps others happy
Time wasters
Distractions such as social media worm holes & doom-scrolling
Prioritise and diarise dial movers every single day.

Let's kick the guilt, shame and baggage to the curb where it belongs and simply get back on track with the business of being great again!

I founded my business with one mission: to help women to play a much bigger game – and do so with big ideas, big impact and big, audacious bucket loads of confidence.

So that together we can shift the balance of power and create a better place for us all

See you at the top!

---

If you'd like to learn more about becoming the Standout CEO of your Life, Career and Destiny, CLICK HERE and grab your ticket to the free webinar. We can't wait to see you shine!

Because when women win, we all win
#womenofimpact #LookOutCSuiteHereSheComes #ICreateSheroes
"Speak your mind, even if your voice shakes" ~ Maggie Kuhn Something had to give. Like many women, I've got a lot on my plate at the moment. In addition to my regular client load, ...
Put your hand up if you're an executive woman who's ever felt like they need to go it alone....