She-Suite Spotlight: How to Rockstar your brand like Holly Ransom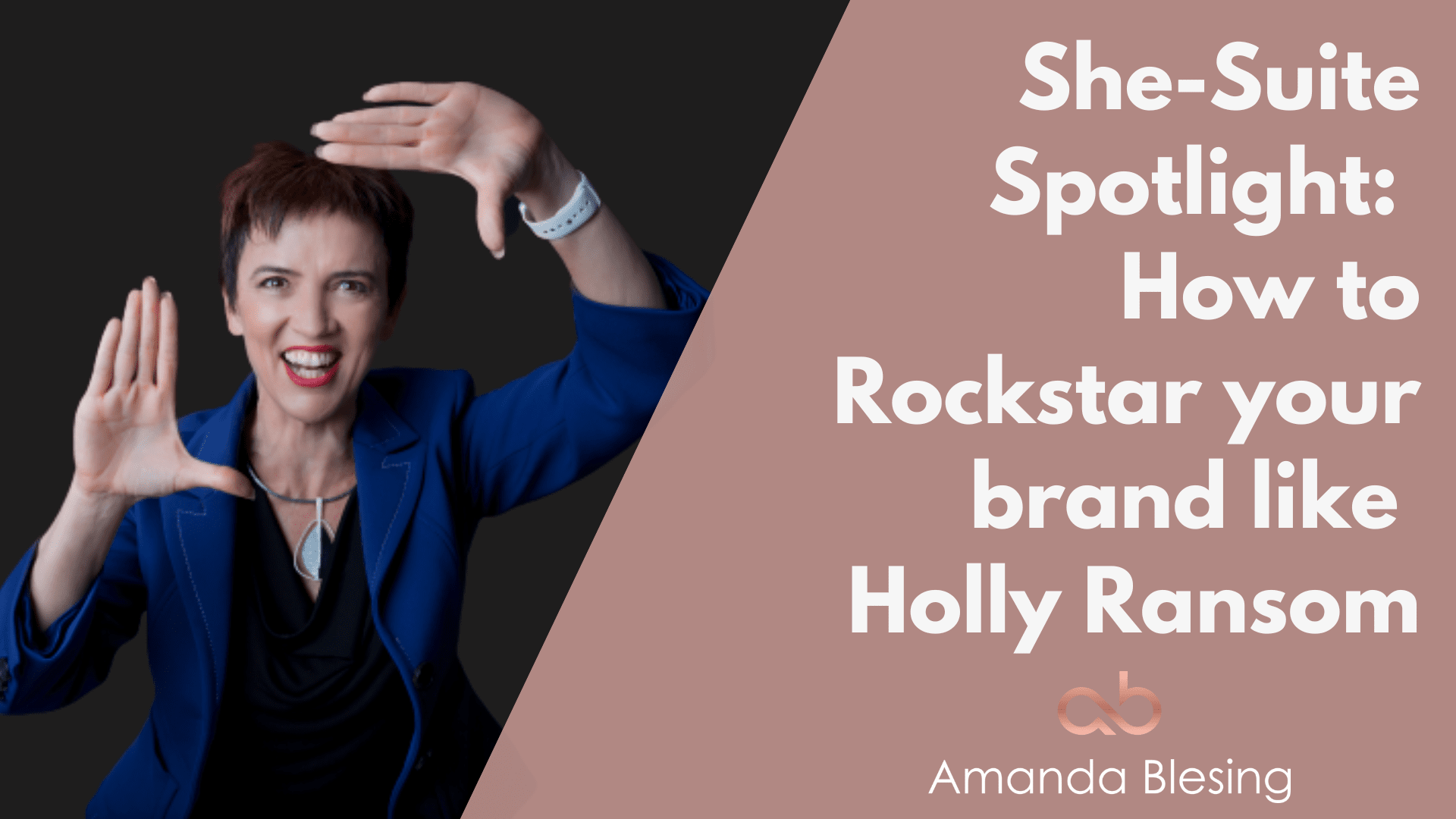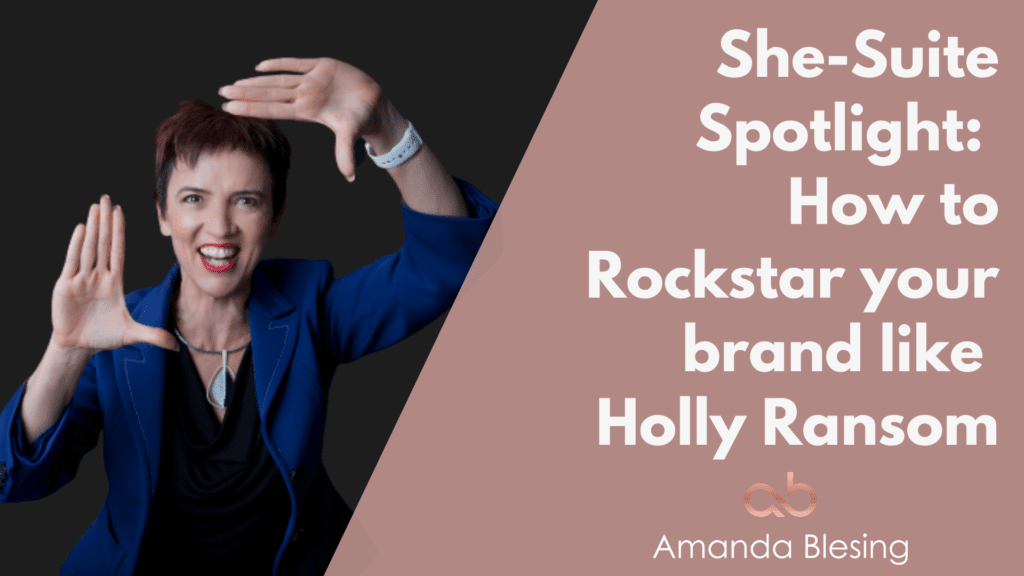 I first came across Holly Ransom when I heard her speak at a conference over a decade ago. My response? Utter awe. Not only was Holly a standout speaker and leader, she was charismatic, confident, and convincing. Holly knew how to Rockstar her brand before we even knew that was something we needed to do – let alone how to do it!
In the 10+ years since I first saw her speak, Holly has risen to prominence not just in Australia, but around the world. She has:
Been named by the AFR as one of Australia's 100 Most Influential Women
Delivered a Peace Charter to the Dalai Lama
Interviewed worldwide leaders including Barack Obama, Malcolm Gladwell and Richard Branson
Founded two organisations, started a world-class podcast, and wrote a best-selling book
…and she's done it all while staying true to her brand and her mission. So what can female leaders learn from Holly's brand mastery and leadership? Here are four lessons from Holly on how to Rockstar your own brand
1. OWN YOUR PERSONAL BRAND
Many senior female leaders shun the spotlight in favour of doing good work. Sometimes, the overwhelm wins out and we choose invisibility. Other times, there's a fear of backlash or bullying when women step up and speak out. But when women choose to remain unseen, they risk missing out on opportunities later. If you're afraid to put yourself out there, you'll never progress beyond your current level of visibility.
"The few things you are afraid of are fears because of the perception you've built up around them. Fear is an entirely mental game. Mark Twain has it right when he said it's not about absence of fear, it's mastery of it."

Holly Ransom
If you want to be stand out in your work, you need to own your personal brand. Downplaying your accomplishments and letting others lead the conversation simply won't cut it – instead, look for opportunities to prove your expertise and know your own worth. It might be scary at first to put yourself out there – but your future self will thank you later.
2. PUT YOURSELF OUT THERE ON SOCIAL MEDIA
There's a reason Holly's been recognised as a LinkedIn Influencer and a credible content producer by the Australian Institute of Company Directors – and she wouldn't have gotten there if she'd been afraid of posting online! Knowing what to say on social media can be difficult, especially if you're concerned about dissenting voices in the comment section. But that's why it's important to develop strong IP, and know how to wield it.
I always say consistency trumps frequency. For Holly, that's posting on LinkedIn once or twice a week – and it's a good rule of thumb. Learn to be consistent in your tone of voice, in your style of content, and in how often you post. Sharing a weekly LinkedIn post will do wonders compared to ad hoc posting that fluctuates depending on your mood, energy, and level of busyness. Make yourself a content plan, learn how to engage your ideal audience, and then put yourself out there. Remember that authenticity goes a long way, so posting a photo of yourself at an event, or a video about an upcoming opportunity is a great way to self-promote without coming across as self-centred.
3. TAKE EVERY OPPORTUNITY
Just as important as being seen on social media is being seen in person, print, and on other online platforms. As well as founding her own podcast and regularly writing content on her own blog, Holly has appeared on ABC's Q&A and The Drum, been featured in magazines such as Women's Agenda, and has delivered keynotes and spoken at conferences in 6 continents. From podcasts to workshops, speaking opportunities to media articles, take every opportunity to promote yourself, your brand, and your work.
If you're well enough known in your industry, you'll likely have people knocking down your door to have you featured on their platform – so simply say 'YES'! when asked. But, if you're still developing your brand, you might have to be the one asking to be featured. If you have something new to promote, like writing a book, you should hire a PR manager to find you speaking and media opportunities. If you're trying to get your name out there, join a few business groups and network with media representatives to get your foot in the door.
4. SOAR WITH THE EAGLES
One final thing that Holly does that is an amazing positioning and brand building technique – she creates opportunities to see and be seen with high profile global figures. Not only does this take courage but an admirable amount of self belief as well. Shout out to Holly for maintaining her self belief in a world that's dominated by men! But why is this important? Not only does research tell us that we become more like those we spend most time with, but in an increasingly digital and algorithmically driven world, when our names are connected it creates alignment in other areas. Whenever I think of Holly Ransom I now think of Barak Obama, and then I'm once again reminded of her complete awesomeness in creating that opportunity. If we do indeed become like the people we hang out with, then how can you create a group of people who will not just cheer you along, but inspire you, challenge you to reach higher, increase your opportunities and amplify your brand?
Rockstaring your personal brand can feel like a challenge – but it's one I'd invite you to rise to! If you need a hand developing or leveraging your brand, get in touch.
In a world where women account for less than a third of key management positions, female leaders need to take control of own careers and success more than ever.