The #1 Reason Why Women Feel Nervous About Standing Out and The Easy Way to Fix It
"Speak your mind, even if your voice shakes" ~ Maggie Kuhn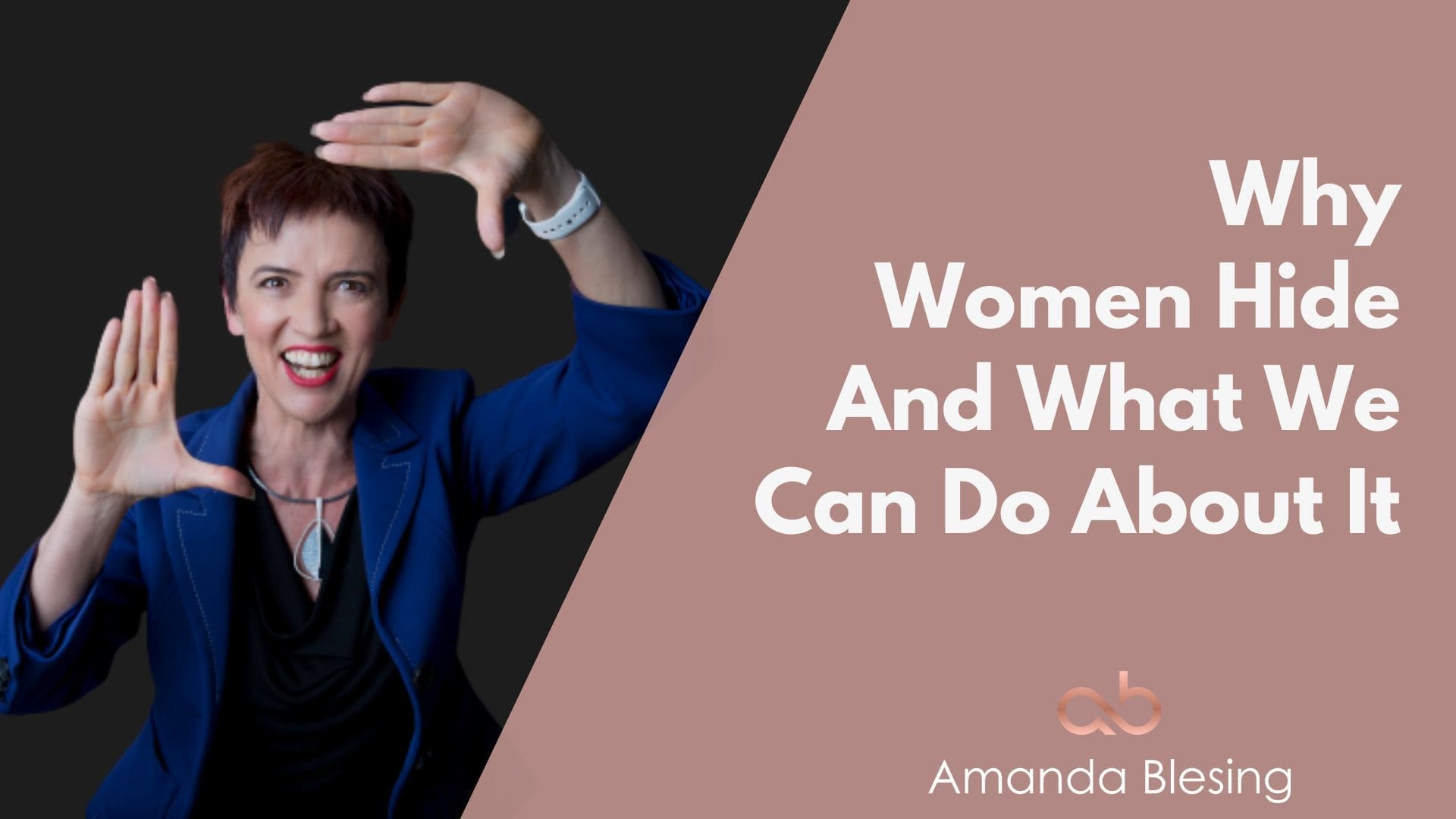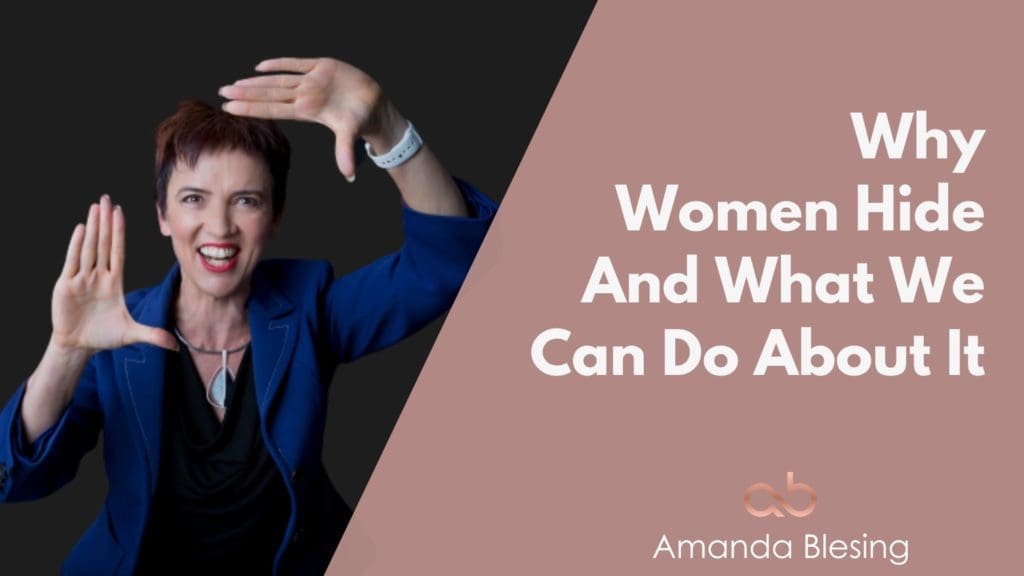 Something had to give. 

Like many women, I've got a lot on my plate at the moment. In addition to my regular client load, I'm launching The She-Suite™ Club, plus I've got some major family dramas going on, and to top it all off I caught the dreaded COVID and have had a couple of weeks out of action.

And guess what? As a result, the last thing I felt like doing during this time was networking and going on LinkedIn.

So I hid. I put my blinkers on, stuck my head in the sand and I switched off to the outside world.

Did you know that this is a thing?  In fact, I'm really normal. When we're overwhelmed, over worked and under the weather, the thing that often gives is our visibility activities – you know, strategically placing ourselves in the right places where we'll be seen by the right people, at the right time, with the right key messages.

Yes, it even has a name – intentional invisibility – and it's something that women are quite skilled at.

Let me explain.

Visibility in the workplace is a double-edged sword for women.

Not enough visibility and you risk fading into the background, making your chances of promotion slim to none.

Become over exposed (and yes, it's sooo subjective) and you risk being labelled as loud, too big for your boots or a know-it-all – the very reason that many women choose invisibility in favour of being called out in the workplace.

In a game so full of risk, it's no wonder that women play to the stereotype and choose to fly under the radar.

Additionally, often women's contribution is not as seen by decision makers, either because of systemic issues, or possibly the lower profile nature of the projects that many women find themselves working on, or even because female voice is quite simply over looked. Remember, in Australian 9 out of 10 line roles are held by men.  That's 9 x more opportunities for men to be visible right there in that statistic. So we're going to have to learn other ways ways to step in to the spotlight

But, if you want to progress in your career, become known for your leadership, and thrive in your position, remaining unseen simply won't cut it.  

SEEKING VISIBILITY

We know that being visible at work is key to promotion and career progression. In one HBR study, leaders of a Silicon Valley tech company agreed that visibility was the number one factor for career advancement to their level – in fact, visibility was deemed more crucial than technical expertise, business results, or leadership ability.
Research also shows that women who proactively seek visibility and make their accomplishments known to their managers, advance further in their careers, are more satisfied in their roles, and have greater pay increases than women who remain invisible in their workplace. In this study, seeking recognition for their achievements was also the only promotion strategy that women associated with pay increases.

I reiterate – in this study, seeking recognition for their achievements was also the only promotion strategy that women associated with pay increases.

ONE BIG REASON WHY SOME WOMEN CHOOSE INVISIBILITY

As you know I work with lots of women and while there are many reasons why women choose invisibility even when they know of the benefits of increased visibility, however, there is one common theme that I hear over and over again.

We don't want to waste anyone's time or energy, least of all our own.

PICTURE THIS
Scenario 1 – You're planning on a longer holiday in the middle of this coming year. You keep your head down and don't put your hand up to volunteer for that juicy, high profile committee chairing opportunity that's guaranteed to get you noticed by decision makers, because you're worried about the timeline with regards to your upcoming holiday. Yes, this is a classic case of not wanting to waste anyone's time least of all your own, with a side of of not wanting to disappoint others or be seen to be unreliable by going off on a holiday in the middle of the new commitment.

Scenario 2 – You're thinking about applying for a promotion that's slightly out of your comfort zone. You're keen, the role looks exciting and is just at your edge which is perfect for a next step for you. Then life gets in the way – family dramas, a project blip, your partner's role becomes uncertain and it makes you start to second guess and doubt yourself. So you don't throw your hat in the ring after all, and don't even go to chat with anyone about your potential suitability for the role. In fact, you hunker down, head down, backside up inside your current role not wanting to expose yourself. Why? You guessed it, because doubt triggered you to start not wanting to waste anyone's time or energy, least alone your own.

Scenario 3 – You're a shining star on the leadership talent pipeline program. Things have been going swimmingly at work for you and the future looks bright. Then all of a sudden you and your partner start thinking of starting a family in six months or so. As a consequence you unconsciously start leaning out of opportunities to showcase yourself and your talents in the lead up to the six months undermining all that fabulous work you'd been doing earlier in the talent program. Why? You guessed it again. Because you don't want to waste anyone's time or energy, least of all your own.
WHAT WE'VE FORGOTTEN

When we start becoming intentionally invisible – whether that's unconsciously or consciously, we undermine our career prospects.

More importantly I think we've forgotten three big important principles.
We've forgotten to factor in that because as women we've been socialised to be more conscientious, considerate and compliant, that this is tripping us up, and is not in fact the way that others might be playing the same career game. Ever heard of a man accepting a high profile opportunity and then flitting off on leave for the next few weeks with no apology or hesitation? I thought so!!!!!

We've also forgotten to factor in that the business does better with diverse talent in senior level roles and if they want diverse talent they will need to be far more accommodating than in the past. Even if you may be planning a break, your particular expertise or unique perspective might be the very thing that the business needs.

And finally, we've forgotten to factor in that at this stage in your career you are a skilled communicator and negotiator. You're a heavy weight when it comes to skillfully articulating your value, asking for what you want and at negotiating conditional and flexible starting arrangements that might just even suit you better.
IT'S NOT A WASTE OF TIME

Even if you've got a lot going on, stay consistent with your visibility and branding activities – speaking up in meetings, volunteering for high profile opportunities, brand building on LinkedIn/the intranet and finding opportunities to get front and centre with decision makers.

It might not be right for now, but it's a huge investment in your career for when you need it.

Burying yourself conscientiously inside the business, intentionally or unintentionally, is a huge risk to your career and once again means you are leaving money and opportunity on the table.

As the saying goes – put your hand up before you feel ready – knowing that with consistent visibility, you'll be in a better position to negotiate terms that suit you anyway.
#womenofimpact #LookOutCSuiteHereSheComes #ICreateSheroes
I recently shared a cheeky reel featuring Suneera Madhani. Asked "What do I bring to the table?", Suneera responds "I AM the table".
Many women get invited to speak at conferences and events for free.  If you're an executive woman and you are representing your organisation, that's understandable as your company is paying your salary. However for consultants, this is tough.