What You Need To Know to Become a Standout CEO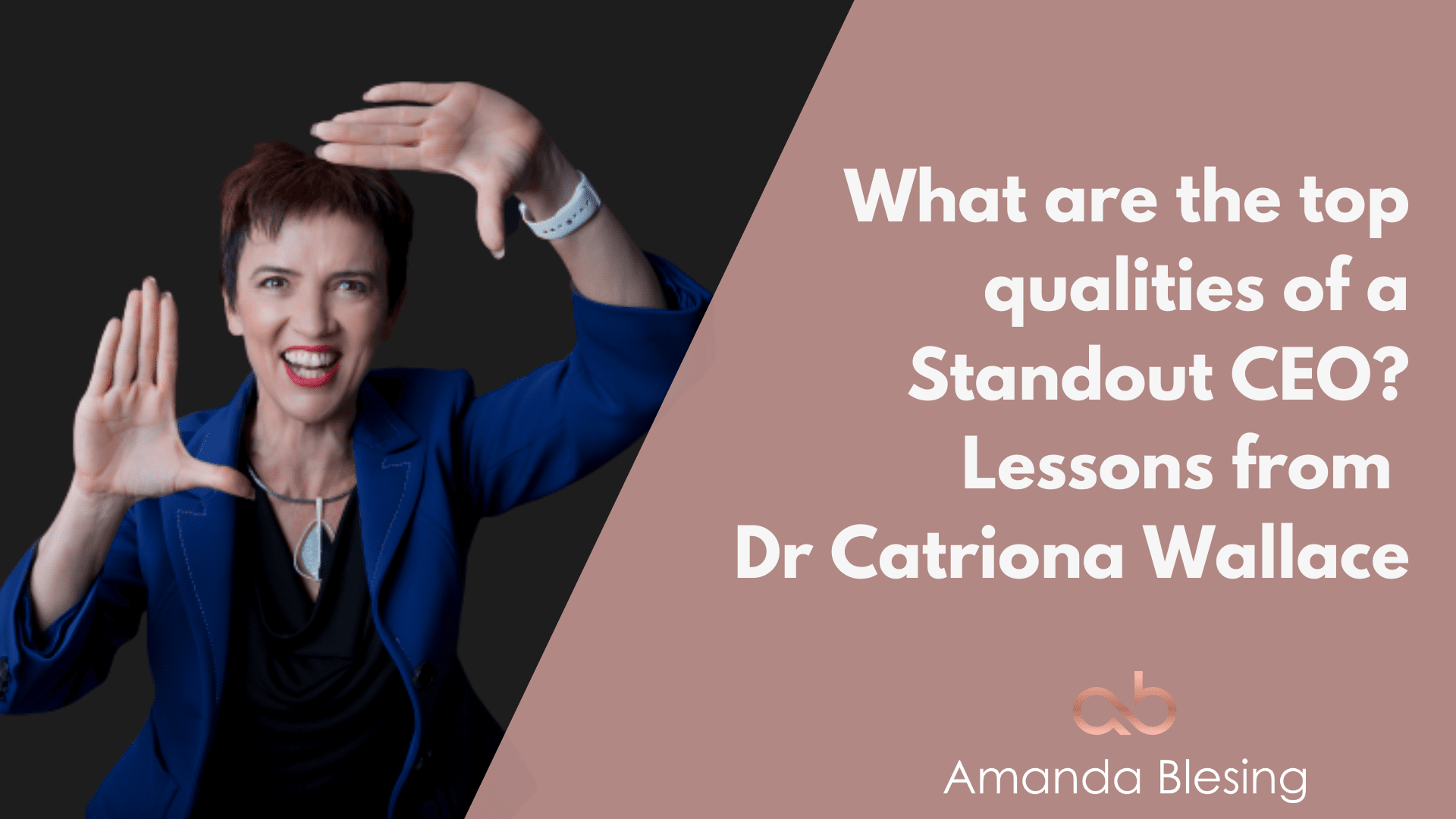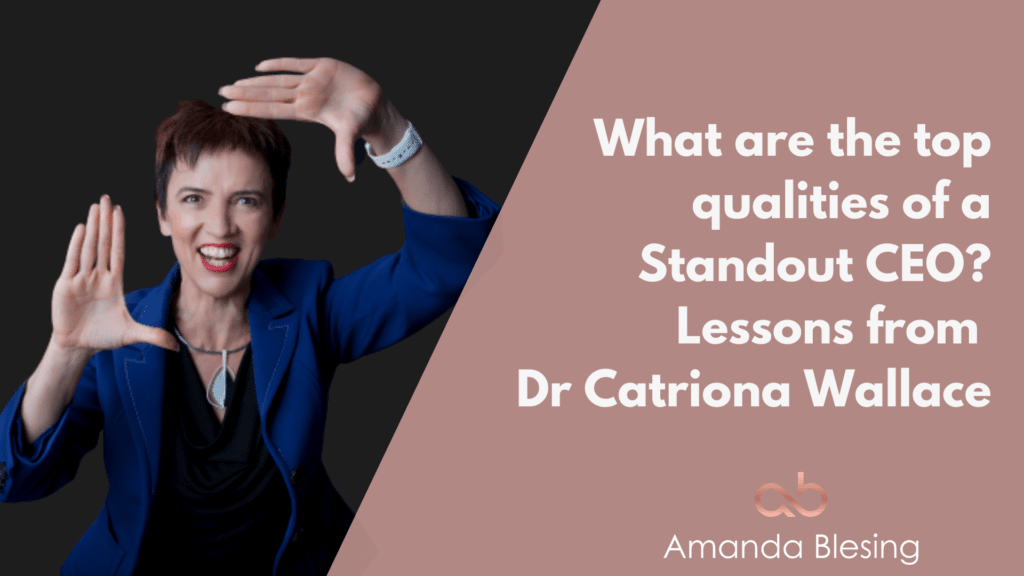 "Women need to see, read about, meet and experience other women who are in those leadership roles. I believe that women attract women. Women like to go and work with women, so just having that visual presence would certainly help." ~ Dr Catriona Wallace
Authentic leadership is the hallmark of a Standout CEO. Sought after for their strong perspective and unique positioning, they hold their own in any room of leaders. I love seeing examples of invincible Standout CEOs owning their own awesome and creating their legacy. My latest muse? Dr Catriona Wallace. If you want to know what it takes to become a Standout CEO, read on for three lessons from Catriona.
1. STANDOUT CEOs WRITE THEIR OWN NARRATIVE
Catriona knows her personal brand, and she owns it. The first thing you'll see in her LinkedIn bio tells you exactly who she is – "I am a Woman, a Mother and a Medicine Woman in training. This is how I most strongly identify. This is what I am. What I do is below…;)". In a sea of LinkedIn profiles that read like an early 2000s resume, Catriona immediately stands out from the crowd – and makes it known that she's a woman who'll stand up for who she is and what she believes in. Standout CEOs are so much more than their KPIs. They're authentic leaders, self-aware trailblazers, and masters of their own narrative.
Catriona's narrative is one she has been honing for over 15 years. In an industry dominated by men, Catriona has established herself as an entrepreneurial authority figure, known for her expertise and incredible insights into the future of AI technology. If that wasn't enough, she is the second woman ever to run an ASX-listed company – top-tier indeed! Yet she's never bowed to the pressures of how a female CEO should look, dress, or act. In fact, Catriona recently shared the fabulous story of turning down a $1 million investment because the investor wanted her to remove her nose ring. It sounds ridiculous, and it would have been easy for Catriona to oblige. But she stuck to her guns and stayed true to herself – because that's what a Standout CEO does.
2. STANDOUT CEOs ARE STRATEGIC ABOUT THEIR SUCCESS
I cannot believe the workload that Catriona seems to carry so effortlessly. She is the Founder of the Responsible Metaverse Alliance, Executive Chair of Boab AI, and the Founder of Ethical AI Advisory (now part of the Gradient Institute, where she is a Director). She is an international keynote speaker, a philanthropist, a human rights activist, an Adjunct Professor at the Australian Graduate School of Management UNSW… and she's a mother of five. Whew, I'm exhausted simply writing that list – and that's not everything!
It would be easy when overburdened with such huge responsibilities to pack it all in. But Catriona believes women really can "have it all". This takes an unconventional approach to leadership, and to personal responsibilities like families.
I love Catriona's honesty about balancing being a mother with leading a company – and that her own son called her out on not being a "normal mum" (while assuring her this was great).
Standout CEOs aren't afraid to go against the grain when needed. If everyone led like the CEO before them, there would never be change. The company would become stagnant, the people would become disengaged, and the board would soon be questioning their appointment. That's not to say every decision should be radical – but a Standout CEO, like Catriona, strategically chooses opportune moments to Stand Up and Stand Out.
3. STANDOUT CEOs CHAMPION OTHERS AS WELL AS THEMSELVES
Named the Most Influential Woman in Business & Entrepreneurship by the AFR, Catriona knows how to exert her influence to mentor others. Lamenting to The CEO Magazine, Catriona admitted that she doesn't get to work with many female CEOs as too many women between the ages of 30 and 40 leave the companies they've worked their way up in to change careers or start a family. Her solution? Better mentoring, profiling, and (the kicker) visibility. "Women need to see, read about, meet and experience other women who are in those leadership roles. I believe that women attract women. Women like to go and work with women, so just having that visual presence would certainly help."
Championing other female voices creates real change for women in leadership. And that's exactly what Catriona uses her platform to do. Yes, she shares about her own work and achievements – as a woman in leadership, it's crucial for her to do so. But she also retweets stories about other female leaders making strides in their field, shares events and awards that promote female success in tech and business, and shares her experiences as a CEO and entrepreneur to inspire other women leaders. She consistently creates space for her legacy, while paving the way for the Standout women who will rise to create their own legacies.
Congratulations Catriona – you've inspired me and now I'm inspiring others with your story. Keep up the amazing work!
Your thoughts? Drop me a note
---
Want to become a Standout CEO yourself? My flagship 8 week Invisible to Invincible Online Training Program – a career roadmap for executive women, includes a section devoted to becoming just that – leading authentically, taking control over your own narrative and leaving a powerful legacy. You can find that inside The She-Suite® Club – helping women to feel seen, heard and valued.
Join The Club!
P.S. Don't forget that the Super Early Bird special for the 2023 Palm Cove Retreat closes on 30 September. Your priority #1 is you.
#womenofimpact #LookOutCSuiteHereSheComes #ICreateSheroes
In a world where women account for less than a third of key management positions, female leaders need to take control of own careers and success more than ever.