Dress Like the CEO and You Start Thinking like a CEO – AFR January 2022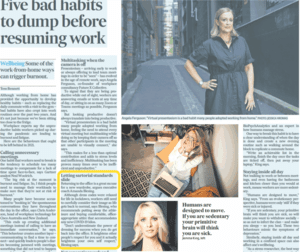 As you know I help executive women create careers and salaries that other people only dream about and to do this sometimes you need to upgrade the way you present yourself around the office.
Delighted to get a mention in the Australian Financial Review although I think it lacks some punch!
What I said in fact was this –
"In a study conducted in 2015, researchers found that wearing formal business attire not only increased peoples self-esteem, but actually "increased their big picture thinking and abstract thinking, essentially thinking like a CEO". Dressing in business attire helped subjects to feel more "powerful" which as you can imagine contributes significantly to your success. When we head back to the office, why not dress for success and your job is halfway done."
Obviously if we want to extrapolate – dress like someone who'd rather be elsewhere, and run the risk of it becoming a self-fulfilling prophecy!
See the AFR article by Tess Bennett on Five Bad Habits to Dump Before Returning to the Office
"Speak your mind, even if your voice shakes" ~ Maggie Kuhn Something had to give. Like many women, I've got a lot on my plate at the moment. In addition to my regular client load, ...
Put your hand up if you're an executive woman who's ever felt like they need to go it alone....