Gender Equity Quotas Needed Across the Board | The Age with Amanda Blesing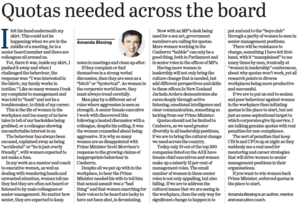 My piece in The Age this week as I join the chorus of powerful voices, both male and female, calling for real leadership and real change.
Ham fisted, naive and bumbling just won't cut it any more. It's disrespectful to women everywhere.
We need real leadership that demonstrates empathy and understanding along with a willingness and capability to do something about it – all of which is demonstrably lacking at the moment.
We also need quotas plus culture change as the current 'culture change' alone approach simply isn't working.
We've been working 'hard' at gender equity for years. It's time we worked far smarter.
"Speak your mind, even if your voice shakes" ~ Maggie Kuhn Something had to give. Like many women, I've got a lot on my plate at the moment. In addition to my regular client load, ...
Put your hand up if you're an executive woman who's ever felt like they need to go it alone....