Self-improvement for women is not a strategy.  Improving a broken system is.
Women are great at becoming more self-aware and working on improving themselves so they can get further up the food chain inside their organisations.
We know too that women go back to university to do postgraduate studies in greater numbers than men, and that they do courses and trainings to prepare themselves for the next level in their career and to improve their leadership.
"A man looks in the mirror and sees a senator, a woman looks in the mirror and sees someone who needs to do more work on herself." ~ Anne E Korbut
But given recent gender equity data showing only 6% of women CEOs in Australia's ASX300, self-improvement as a strategy is not working.
To be clear though – 
this does NOT mean that women don't have amazing leadership potential – but men are more likely to be promoted because of potential, women because of their track record.


this does NOT mean that women are less intelligent in some way (quite the opposite in fact when you factor in emotional intelligence),


nor does it mean that women don't want to lead – despite a 2022 McKinsey and LeanIn.org report finding that more and more senior level women are calling it quits right now.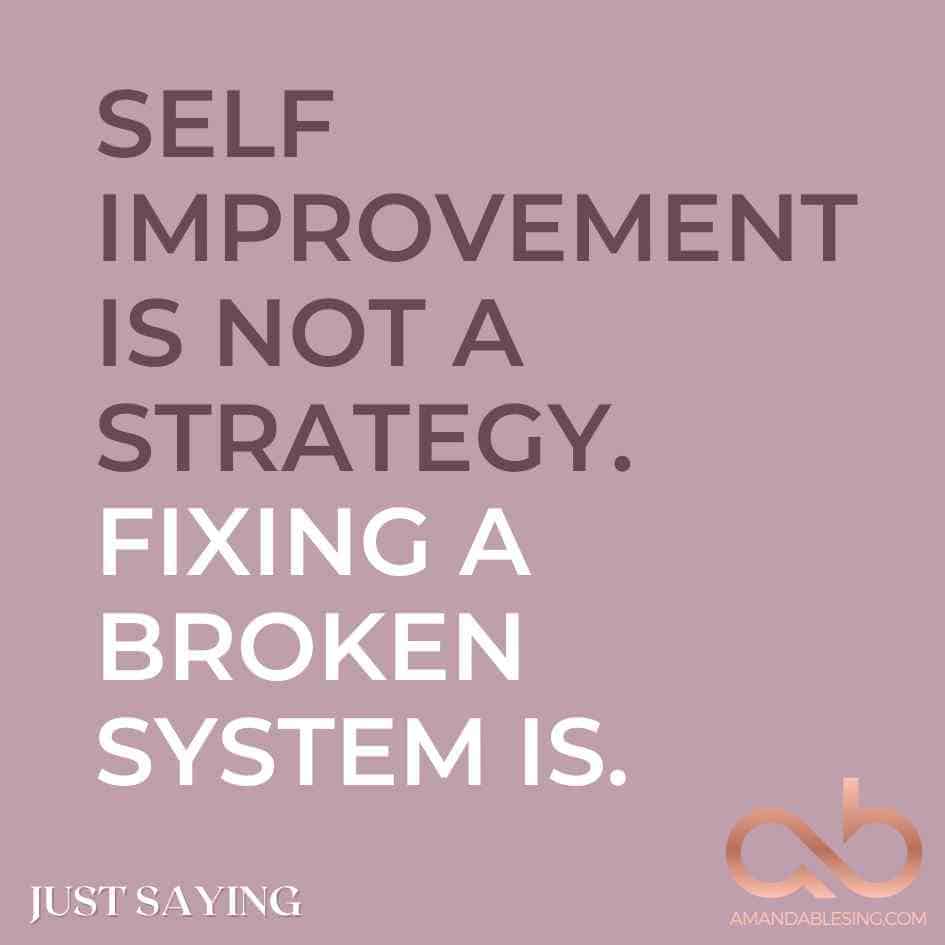 Women aren't deliberately missing out, or not trying, nor are we making bad decisions about our careers and leadership.
Instead, it's an indicator that the system is still broken.  The system has been designed around men leading and succeeding and unless we're prepared to lead and succeed just like men, it's an incredible hard row to hoe.
So if you're an ambitious woman with your eyes on the prize, what can you do? Here are three places to start –
Create a career strategy that's closely aligned with your why. We know that having a clear sense of purpose and why will help you depress the modesty norm which in turn will help you get out of your own way, and also help you to do the hard yards that are still required if you're going to make it to the top.  Women historically have not had role models who had clear career strategies. In fact, we're more often taught that success in our careers comes about by luck, happy accident or being tapped on the shoulder and discovered like Australia's Top Mode.


Find or create your own support network of likeminded women. Women are so often told that women tear each other down and compete with each other that I fear it's become a self-fulfilling prophecy. If the Murdoch Press is to be believed female leaders are constantly having a go at each other, evidenced by multiple articles pitting the Premiers of QLD and NSW against each other.   The catfight might sell papers or grab attention, but it does nothing to encourage the narrative that women support each other.  And yet women do. There is now ample evidence to suggest that women do better with the support of other women.   Behind every successful woman is an amazingly supportive chat group, might be a fun meme, but it's definitely closer to the truth for many women.


Find advocates, champions and sponsors who are prepared to put their money where their mouth is i.e. not just offer encouragement.  We've got the encouragement piece covered via our own networking. What we need is people in places of power who are prepared to take real action. What does taking real action mean? Open doors, look under rocks of bias and perception and fix what's wrong, provide introductions and call out injustice when they see it.  Women need action not just encouragement. We need sponsors and champions who are well placed to do just that – sponsor and champion.
As I said, you can't self-improve way out of a broken system. And with 80% of leadership roles still held by men, it's going to take a while to change.
But you can take ownership of your own career and leadership journey and that's what I did myself and strongly encourage for others.
In 2022 we launched August Money Month inside The She-Suite® Club and it was such a hit (and got such great results) that we are doing it again.