Stereotypes, advertising and being prepared to stand out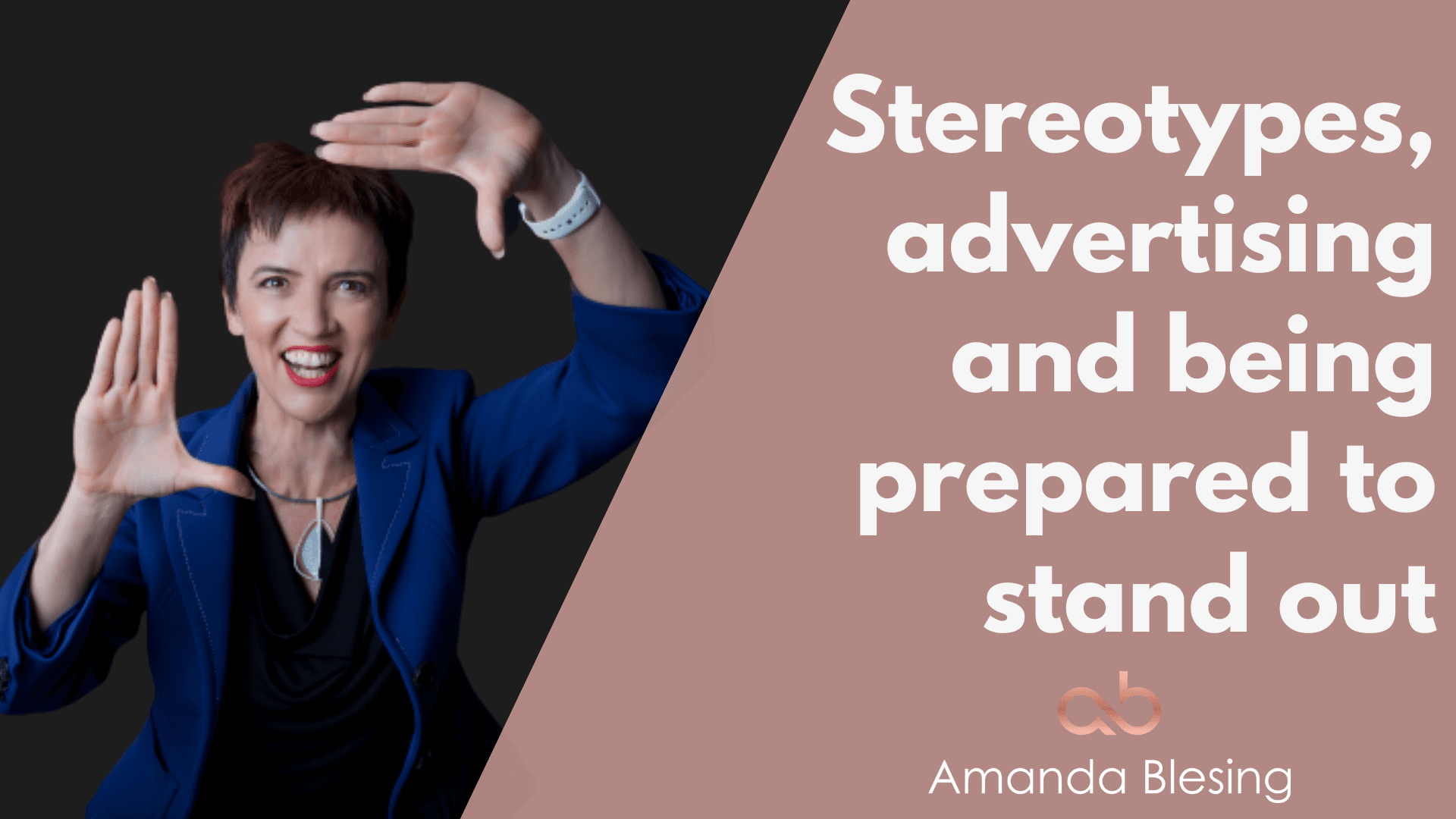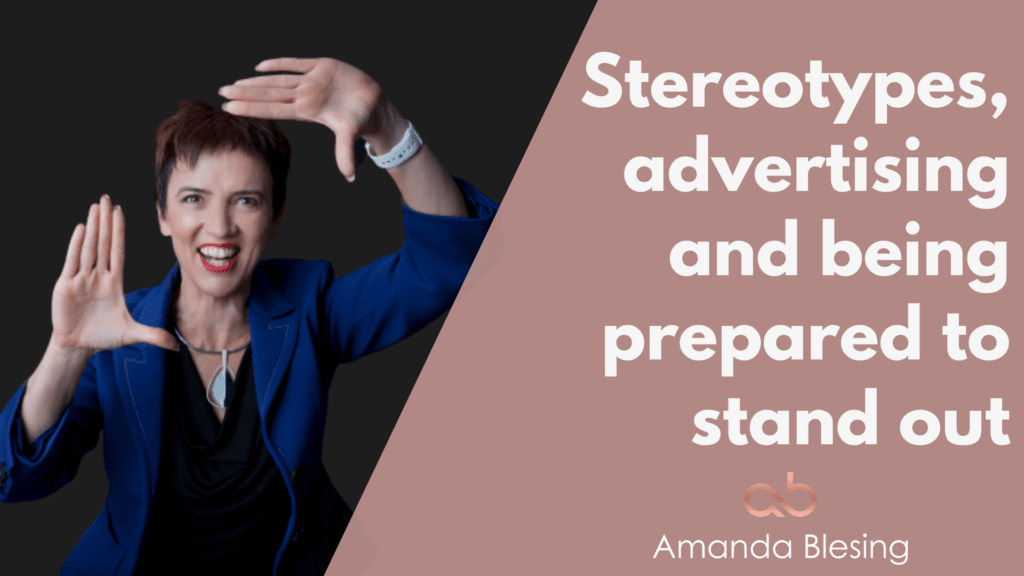 As I begin to unpack the issue of visibility for women in leadership, I can't help but reflect on the advertising industry. Cindy Gallop, the British self described 'visible older woman' advertising industry executive quoted above, is an extremely vocal advocate of change. Change, not just about the women and men who work in the sector, but because of the key messages this powerful industry perpetuates in society. In a nutshell, the advertising industry sells and perpetuates stereotypes – what it is to be a bloke, a woman, to be young, old, successful – and these stereotypes become then norm.
Relevantly, a recent global study of the advertising industry found that –
"just 2% of adverts featured women who could be described as "intelligent"; just 3% were shown in leadership roles."
The advertising industry is just the tip of the iceberg with the media and entertainment industries, all such powerful influencers of our socialization, compounding the problem and promoting and reinforcing a lack of 'visibility' for women as leaders.
Real life statistics
Real life statistics aren't much better off with the recent McKinsey and Lean In global research highlighting that women only make up 19% of those in the C-suite despite intense focus and huge effort in the last 50 years.
The survey also found that the roadblocks, brick walls and glass ceilings that more mature women have battled for years are still having impact on younger generations – with 23% of millennial women believe their gender has prevented them from getting ahead at work (compared to 26% non-millennials), and with a more than 14% ambition gap between millennial women vs men (compared to 17% non-millennial).
It's not that women aren't getting there because we're/they're not good enough. In fact, there is now overwhelming evidence to the contrary including analysis of performance during the GFC demonstrating that organizations with mixed gender Boards performed better at that time. It's just that perception and biases get in the way of us seeing (women included) that women also make great leaders.
Bias is bad for business
Bias is a huge issue for those who aspire to leadership roles but don't fit the stereotype. It's also a huge issue for those industries and organizations who have yet to embrace the benefits that diversity brings in order to meet 2020 business challenges and remain competitive.
Relevance and sustainability in a modern and ever changing business environment are some of the greatest obstacles in any industry. If organizations want to remain relevant and be around in the future, they need to ensure that women are seen as leadership potential. Put simply, invisibility and the biases that surround it, are a problem for both the individual and the organization. And to quote Jonathan Segal;
"Bias is bad for business."
When ambitious women don't fit in easily (don't always get the jokes, don't look the same, don't play golf, don't know the unwritten ground rules, other women think we're bossy and men may feel threatened) we may accidentally find ourselves becoming invisible in the leadership talent pipeline despite targets, quotas and best intentions.
Taking a stand makes companies stand out
Recently we've seen several brands come out and really embrace the benefits that diversity brings. Earlier in the year we saw Lynx parent company Unilever come out publicly and vow to drop advertising that promotes stereotypes. Yes, this makes them far more visible in a crowded market place. Plus the lamb diversity campaign by the MLA in Australia is a great example of turning diversity into a competitive advantage.
In a modern world, future focused successful organizations are also embracing diversity as a competitive advantage in terms of attracting talent, creating new markets and mechanisms to innovate.
Why not be a stand out individual?
For the individual, this represents an opportunity to really stand out as well. This is an opportunity for you as an individual to let go of the old ways of getting ahead – fitting in, playing the game and playing by the rules. They aren't going to work much longer anyway.
Instead embrace the new rules of the portfolio career, personal branding and self promotion. Leadership opportunities will go to those who are prepared to Step Up, Speak Out and Take Charge. And the best bit? This then becomes a competitive advantage for those who don't fit the mold.
Visibility = being seen, heard and valued.

Visibility strategy = being seen, heard and valued, in order to stand out and lead.
Some rules of thumb to remember in your quest for leadership:
Back yourself and be prepared to have a crack at it – women have a tendency to underestimate our future performance as compared to men. Don't let that tendency stand in your way.

You shouldn't have to fit in in order to lead – in fact it might be more helpful if you stand out

Invisible might feel comfortable, but visibility is the new black

Results don't speak for themselves, you need to speak to them

Your future leadership personal brand is your key differentiator

It's your job to sell brand you, not someone else's
While the advertising industry itself still has a long way to go, there are great lessons emerging for us all. And as Oscar Wild once wrote;
"Life imitates art far more than art imitates life."
Your thoughts?
Does your organisation promote the same old tired stereotype? Or are you seeing fresh ideas and different thinking championed and celebrated throughout the business?

If you are seeing fresh ideas and different thinking championed – what are the results to date?

What mechanisms does your organization have in place in order to encourage different thinking, diverse ideas and innovation?

Have you tried to stand out and did it work (yet)?
Let me know. I love receiving emails from you with your own ideas and insights.
And by the way – still don't have a seat at the table? Why don't you BYO chair? The view is great from where I'm sitting!
Vive la révolution!
#ambitionrevolution #LookOutCSuiteHereSheComes #feminineambition
In a world where women account for less than a third of key management positions, female leaders need to take control of own careers and success more than ever.