How to be yourself and grow in confidence without damaging your brand
Last month I shared a story about a former career path that wasn't really 'on brand' with my leadership goals. I'd been so concerned that it might undermine my ambitions that I'd buried it and to some extent forgotten about it – despite there being some benefit in others knowing about it. I simply didn't feel it made me look credible as a leader. And quite possibly there was a time in my career that I would have been right. And here's why.
Four reasons I hear from executive women about not sharing their more "authentic" brand are:
My male colleagues think my interests are frivolous/different enough, so I don't talk about them if I want to be taken seriously.
I'm already fighting an uphill battle and am worried if I share too much it might be the thing that truly undermines me.
I tried it once, letting people get to know the 'real' me, and it backfired and because it was the real me I felt totally rejected.
My industry hires for 'gravitas' (like a news reader). I'm naturally bubbly, the antithesis of gravitas according to some, so I dare not bring my more authentic self out at work.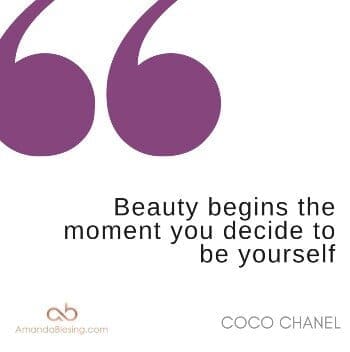 What I'm hearing when I read between the lines is that these women are trying to negate the impact of the stereotype effect – where we perform to a stereotype. Great if the stereotype is positive and you are in fact good at those things i.e.the stereotype that women are more nurturing is great if you are really nurturing. However, it's not so helpful if you're not good at nurturing and your role requires it, but I trust that you can learn how.
Also not so good where a stereotype is negative and people when reminded of your 'femininity' then expect you to under perform. A classic example is that most people assume that a man is the best person to lead in high stakes situation and that it would be risky putting a woman in charge when times are tough. Which we all now know is rubbish, with ample evidence from amazing female leadership throughout 2020 leading exceptionally well throughout a year of crisis, this has to be disputed – but the stereotype still holds.
However, when it's your career at stake, you aren't necessarily in the business of fighting the good fight for all women everywhere, you're more likely adept at not bringing your whole self to work unless the culture is really inclusive.
So here are six ideas to help you bring your more authentic leadership brand to the table without the sting in the tail:
Define your destination – what is it you are aiming for (brand and career)
Understand the pros and cons of your current brand and risks of being more authentic
Work out what you need to change about your brand on your pathway to the top
Create allies – help others to help you
Craft your narrative – be sure to consider context and relevance as you introduce your more authentic brand
And finally, remember, the 'gold standard' of executive branded – proactive, intentional, future focused and strategic. It's not disingenuous, it's critical.
LEAD LIKE A LEADING WOMAN, NOT LIKE A MAN
When you and your brand are more congruent, you'll feel more confident – and in a world where confidence is frequently mistaken for competence this will definitely work to your advantage.
However, when women everywhere feel empowered to be themselves at work, that's when true change will happen. We don't need more women leading like men or organisations will keep getting nowhere with their gender equity efforts and miss out on opportunities to capitalise on the very real and tangible benefits that gender equity offers. Instead we need women who feel empowered enough to lead like themselves as that's where the true potential lies.
#WomenofImpact #ICreateSheroes #OwnYourOwnAwesome
In 2022 we launched August Money Month inside The She-Suite® Club and it was such a hit (and got such great results) that we are doing it again.